Genghis Khan: His Life and Legacy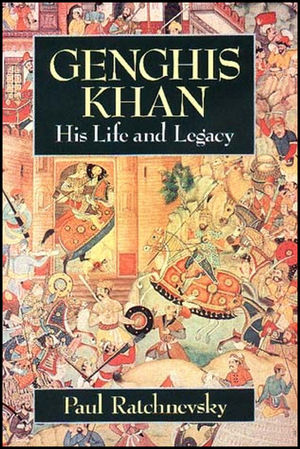 Genghis Khan: His Life and Legacy
ISBN: 978-0-631-18949-7
Dec 1993
336 pages
Description
Genghis Khan was the founder of the Mongol Empire, the largest continuous land empire ever. On his death in 1227, this extended from the Near East to the Yellow Sea, and was expanded by his successors to include what is now Iran, Iraq and southern Russia. By 1206, Genghis Khan had completed the unification by conquest of all the tribes of Mongolia, and was acclaimed as universal Khan. He then launched his assault on Northern China. Peking was captured in 1215, and the Chin were finally subjugated by Genghis's successors in 1234. This is the definitive biography.
List of Illustrations.
Editorial Foreword.
Preface.
1. The Origins and Boyhood Years of Genghis Khan (Temuchin).
2. Rise to Supremacy on the Steppe.
3. Genghis Khan: Ruler of the Mongol Empire.
4. Personality and Achievements.
5. The Structure of the World Mongol Empire.
Abbreviations.
Notes.
Glossary.
Main Personalities.
Dynamic Tables.
Chronology.
Map of Campaigns.
Bibliography.
Index.
"This may well be the definitive biography of Genghis Khan"
Library Journal
<!--end-->"But for Paul Ratchnevsky this corner of history would remain largely unavailable to the West. The debt to the author is enhanced by Thomas Haining's splendid and untiring work in rendering the original book into English." Times Higher Education Supplement

"If anyone could bring us close to the mystery of Genghis Khan's achievements, it was the late Paul Ratchnevsky." London Review of Books

"The translation is excellent. Mr Haining is to be congratulated on his contribution to what is in many respects an improvement even on Ratchnevsky's splendid work." Royal Asiatic Society

"The most significant post-war study of Genghis Khan. Ratchnevsky had exemplary linguistic and historiographical skills enabling him to draw on a very wide range of original sources. Thomas Nivison Haining, the translator and editor of the English version, has done a fine job in trimming the notes while maintaining their principal import, to produce a work of value both for the informed general reader and for specialists." Asian Affairs

"This is the most exciting book I have read for a long time ... A book that no serious Mongolist should be without. The general reader will find it absorbing and informative." The Anglo Mongolian Society Newsletter


The definitive biography of Genghis Khan

Widely praised for its command of the primary sources – Chinese, Mongolian, Persian, and European

The only biography of Khan conforming to modern standards of historiography

Includes illustrations, maps, chronology and dynastic tables to help orientate the reader

A new introduction by Morris Rossabi, Professor of History at the City University of New York and Adjunct Professor at Columbia University, is available at www.blackwellpublishing.com/genghiskhan