Genocide's Aftermath: Responsibility and Repair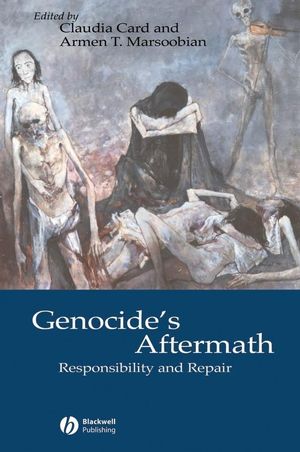 Genocide's Aftermath: Responsibility and Repair
ISBN: 978-1-405-14848-1 March 2007 Wiley-Blackwell 288 Pages
Description
This landmark collection addresses the hard moral dilemmas that have arisen in the wake of genocide and crimes against humanity during the 20th century.






Re-examines the national policy of slavery and forcible removal of Native Americans through the contemporary definitions of genocide

Evaluates issues of guilt through to the consideration of reconciliation and reparations

Original essays representing the latest research in moral issues
Notes on Contributors.
1. Introduction: Genocide's Aftermath: Claudia Card and Armen T. Marsoobian.
2. Genocide and Social Death: Claudia Card.
3. Clarifying the Concept of Genocide: Mohammed Abed.
4. Genocide and the Moral Agency of Ethnic Groups: Karen Kovach.
5. Moral Taint: Marina A. L. Oshana.
6. Collective Action and the Peculiar Evil of Genocide: Bill Wringe.
7. On the Possibilities of Group Injury: Stephen Winter.
8. The Counterfactual Conception of Compensation: Rodney C. Roberts.
9. Compensation and Reparation as Forms of Compensatory Justice: Haig Khatchadourian.
10. A Normative Theory of Reparations in Transitional Democracies: Ernesto Verdeja.
11. Prosecuting Military Leaders for War Crimes: Larry May.
12. Rethinking the Legitimacy of Truth Commissions: ''I Am the Enemy You Killed, My Friend'': Nir Eisikovits.
13. Acknowledging and Rectifying the Genocide of American Indians: ''Why Is It That They Carry Their Lives on Their Fingernails?'': William C. Bradford.
14. Epilogue: Reconciliation in the Aftermath of Genocide: Armen T. Marsoobian.
Index.
"This volume is a welcome addition to the wealth of scholarship on the topic of genocide, important for the heretofore penury of philosophical attention to this phenomenon ... This volume will be found valuable reading, if troubling and controversial in parts, by any educated adult and would also be useful as a provocative text in university studies of genocide."
Wendy C. Hamblet, North Carolina A&T State University
"Where genocide is concerned, philosophy and philosophers need approaches that are more heads-up and hands-on. Fortunately, Genocide's Aftermath provides some significant examples of such philosophical work. The best work in this book favors historical specificity over theoretical abstraction." Notre Dame<!--end-->


A landmark collection analysing the moral dilemmas that have arisen in the wake of the 20th century's history of genocide

Re-examines the national policy of slavery and forcible removal of Native Americans through the contemporary definitions of genocide

Evaluates issues of guilt through to the consideration of reconciliation and reparations

Original essays representing the latest research in moral issues