Genocide: An Anthropological Reader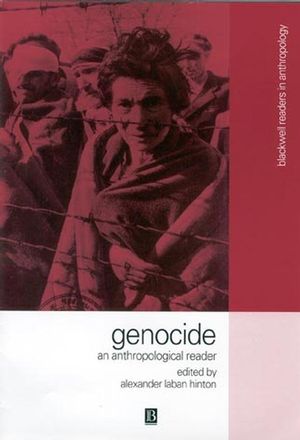 Genocide: An Anthropological Reader
ISBN: 978-0-631-22354-2
Jan 2002, Wiley-Blackwell
396 pages
Description
Genocide: An Anthropological Reader helps to lay a foundation for a ground-breaking "anthropology of genocide" by gathering together for the first time the seminal texts for learning about and understanding this phenomenon.
Acknowledgements.
.
Introduction: Genocide and Anthropology: Alexander Laban Hinton.
Part I: Conceptual Foundations.
1. Genocide. ( Raphaël Lemkin).
2. Text of the UN Genocide Convention.
3. Genocide: Its Political Use in the Twentieth Century. (Leo Kuper).
4. Genocide: A Sociological Perspective. (Helen Fein).
5. Eichmann in Jerusalem: A Report on the Banality of Evil. (Hannah Arendt).
6. Modernity and the Holocaust. (Zygmunt Bauman).
Part II: Genocide, History, and Modernity.
7. Victims of Progress. (John H. Bodley).
8. Culture of Terror – Space of Death: Roger Casement's Putumayo Report and the Explanation of Torture. (Michael Taussig).
9. National Socialist Germany. (Eric R. Wolf).
Part III: Manufacturing Difference and "Purification".
10. "Ethnic Cleansing": A Metaphor for Our Time? (Akbhar S. Ahmed).
11. Imagined Communities and Real Victims: Self-Determination and Ethnic Cleansing in Yugoslavia. (Robert M. Hayden).
12. A Head for an Eye: Revenge in the Cambodian Genocide. (Alexander Laban Hinton).
13. Dead Certainty: Ethnic Violence in the Era of Globalization: Arjun Appadurai.
Part IV: Coping and Understanding.
14. Fear as a Way of Life. (Linda Green).
15. The Myth of Global Ethnic Conflict. (John R. Bowen).
16. Speechless Emissaries: Refugees, Humanitarianism, and Dehistoricization. (Liisa H. Malkki).
Appendix: Websites on Genocide.
Index.
"An excellent contribution to the field of genocide studies: lucid, wide-ranging, and accessible; should be a core text in any course on genocide."
Roger W. Smith, The College of William and Mary
<!--end-->
"This volume, edited and ably introduced by an important scholar of genocide, is an especially timely and important contribution to a growing field. Essential international documents coupled with an excellent collection of previously published articles attempt to explain genocide and related state violence as the first step towards prevention. This fine book is especially suitable for undergraduate and graduate courses." Carole Nagengast, University of New Mexico

"This Reader will be useful for college teachers and novice administrators. Each contribution examines dramatic and controversial issues of immediate concern. While the collection addresses genocidal disasters, its emphasis is on the differences among them, and the varied interpretations that have been made of their causes and their consequences." Journal of the Royal Anthropological Institute


Gathers key anthropological and interdisciplinary writings on genocide together for the first time and explores attempts to define genocide.


Traces the history of genocide in the 20th century with discussion of the Holocaust, and examples from Bosnia, Cambodia, Africa, and Latin America.


Links macrolevel analysis to local-level understandings and lays foundation for a ground-breaking "anthropology of genocide".


Includes extensive bibliography of print and electronic resources on genocide.