Genome Organization And Function In The Cell Nucleus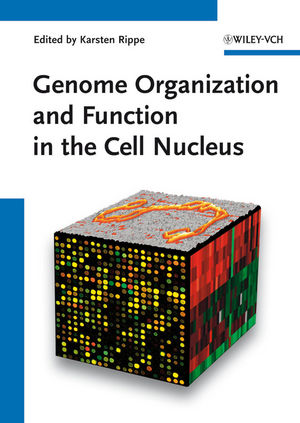 Genome Organization And Function In The Cell Nucleus
ISBN: 978-3-527-32698-3 December 2011 594 Pages
Description
By way of its clear and logical structure, as well as abundant highresolution illustrations, this is a systematic survey of the players and pathways that control genome function in the mammalian cell nucleus. As such, this handbook and reference ties together recently gained
knowledge from a variety of scientific disciplines and approaches, dissecting all major genomic events: transcription, replication, repair,
recombination and chromosome segregation. A special emphasis is put on transcriptional control, including genome-wide interactions and
non-coding RNAs, chromatin structure, epigenetics and nuclear organization.

With its focus on fundamental mechanisms and the associated biomolecules, this will remain essential reading for years to come.
Preface

DECIPHERING DNA SEQUENCE INFORMATION
Introduction
Genes and Transcribed Regions
Non-Coding Genomic Elements
Regulatory Information
Individual Genetic Polymorphisms and Their Effect on Gene Expression
Conclusion

DNA METHYLATION
Introduction
Eukaryotic DNA Methyltransferases
Distribution of 5-Methylcytosine in the Mammalian Genome
Control of Gene Exression by DNA Methylation
DNA Demethylation

NUCLEOSOMES AS CONTROL ELEMENTS FOR ACCESSING THE GENOME
Introduction and Basic Terminology
Nucleosomes are the Building Blocks of Chromatin
Nucleosomes are Dynamic Macromolecular Assemblies
Histone Variants and Their Effect on Nucleosome Structure and Dynamics
Histone Modifications in Nucleosome and Chromatin Structure
DNA Sequence and Nucleosome Positioning
Histone Chaperones and Chromatin Dynamics
Outlook and Concluding Remarks

HISTONE MODIFICATIONS AND THEIR ROLE AS EPIGENETIC MARKS
The Complexity of Histone Modifications
Regulating Histone Modifications in Chromatin
The "Histone Code" Hypothesis
Exploiting the Complexity of the Histone Code: "Crosstalk" Between Different Modifications
Are Histone Modifications Heritable Epigenetic Marks?
Conclusions

CHROMATIN REMODELING AND NUCLEOSOME POSITIONING
Introduction
Chromatin Remodeling Complexes
Mechanisms of Nucleosome Translocations
Positioning Nucleosomes in the Genome
Gene Regulation via Nucleosome Positioning
Conclusions

THE FOLDING OF THE NUCLEOSOME CHAIN
Introduction
Experimental Systems
Nucleosome-Nucleosome Interactions
DNA Interactions with the Histone Octamer Protein Core
Architectural Chromosomal Proteins and Chromatin States
Chromatin Fiber Conformations
Conclusions

THE CROWDED ENVIRONMENT OF THE GENOME
Introduction
Basics
Physicochemical Parameters of the Genome's Environment
Implications of a Crowded Environment for the Conformation of the Interphase Genome
Assembly and Localization of Macromolecular Machines for Genome Transcription and Replication
The Environment of the Genome during Mitosis
Effects of a Crowded Environment on Searching for Targets in the Genome
The Relative Importance of Entropic and Ionic Interactions for the Conformations and Interactions of Macromolecules in the Nucleus
The Evolution of Genomes

THE NUCLEAR LAMINA AS A CHROMATIN ORGANIZER
Introduction
Genome Organization with Respect to the Nuclear Periphery
Interactions between NE Proteins and Chromatin Proteins/Chromatin Regulatory Proteins
Mechanisms Directing Changes in Genome Organization during Development
Gene Regulation as a Consequence of Peripheral Positioning
Peripheral Chromatin Organization and Disease
Closing Remarks

THREE-DIMENSIONAL ARCHITECTURE OF GENOMES
Introduction
3C-Based Methods to Study Chromosome Architecture
Chromosome Architecture as Seen by 3C-Based Assays
3C-Based Data and Single Cell Observations
Towards an Integrated 3C-Based View of Genome Architecture

TRANSCRIPTIONAL INITIATION: FREQUENCY, BURSTING, AND TRANSCRIPTION FACTORIES
Transcription in Mammalian Nuclei
Transcription Is an Infrequent Event
Transcription is Noisy
What Causes "Bursting"?
Conclusion

PROCESSING OF mRNA AND QUALITY CONTROL
Introduction
Biosynthesis of Messenger RNA
Nuclear Quality Control
Cytoplasmic Messenger RNA Quality Control: Nonsense-Mediated Decay, No-Go and Non-Stop Decay
Concluding Remarks

THE NUCLEOLUS
Introduction
The Nucleolus and Its DNA
The Nucleolus and RNPs: Temporary Visitors or Permanent Residents?
The Nucleolar Proteome
Concluding Remarks

NON-CODING RNAs AS REGULATORS OF TRANSCRIPTION AND GENOME ORGANIZATION
Introduction
Classification of Non-Coding RNAs
Small Regulatory RNAs and Their Diverse Nuclear Functions
ncRNAs in Dosage Compensation
Developmental Regulation of Hox Clusters by Cis- and Trans-Acting ncRNAs
Mechanisms of Transcriptional Regulation by Long ncRNAs
Conclusions

RNA NETWORKS AS DIGITAL CONTROL CIRCUITS OF NUCLEAR FUNCTIONS
Introduction
The Information Content of the Genome
The Hidden Layer of Developmentally Expressed Non-Coding RNAs
RNA Control of Nuclear Functions
RNA as the Adaptor in Digital-Analog Transactions
RNA as the Substrate for Environment-Epigenome Interactions
Conclusion

DNA REPLICATION AND INHERITANCE OF EPIGENETIC STATES
Replication in a Chromatin Context: Basic Issues and Principles
Duplication of Nucleosome Organization
Maintenance of Epigenetic Marks and Post-Translational Modifications
Concluding Remarks

INTERPLAY AND QUALITY CONTROL OF DNA DAMAGE REPAIR MECHANISMS
Introduction
DNA Repair Pathways
Repairing DSBs
Repair During Replication
Interplay and Quality Control During DNA Damage Repair
Applications of Mechanistic Insight in DNA Repair in Anti-Cancer Treatment

HIGHER ORDER CHROMATIN ORGANIZATION AND DYNAMICS
Introduction
Higher Order Chromatin Organization: From 10-nm Thick Nucleosome Chains to Chromosome Territories
Genome Accessibility
Mobility of Chromosomal Loci and Nuclear Bodies
Mitosis Causes Drastic Changes of Chromosome Territory Proximity Patterns in Cycling Cells
Large-Scale Chromatin Dynamics in Nuclei of Cycling and Post-Mitotic Cells
Considerations on Possible Mechanisms of Large-Scale Chromatin Dynamics

THE MITOTIC CHROMOSOME: STRUCTURE AND MECHANICS
Introduction
Structural Components of Mitotic Chromosomes
Large-Scale Organization of Mitotic Chromosomes
Mechanics of Mitotic Chromosomes
Molecular Connectivity of Mitotic Chromosomes
A Model for Mitotic Chromosome Structure and Function
Open Questions

MEIOTIC CHROMOSOME DYNAMICS
Introduction
Recombination at the DNA Level
Coordination between Recombination and Chromosome Dynamics
Homologous Chromosome Pairing
Meiotic Recombination as a Paradigm for Spatial Patterning along Chromosomes

UNDERSTANDING GENOME FUNCTION: QUANTITATIVE MODELING OF CHROMATIN FOLDING AND CHROMATIN-ASSOCIATED PROCESSES
Modeling of Genome Functioning
Large-Scale Chromatin Folding
Assembly of Chromatin-Associated Multiprotein Complexes
Outlook