Genomics: The Science and Technology Behind the Human Genome Project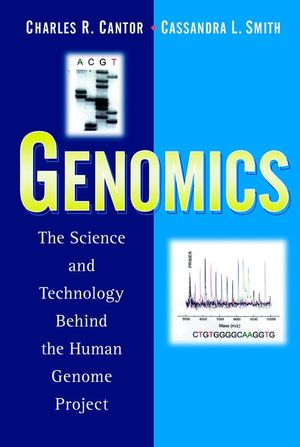 Genomics: The Science and Technology Behind the Human Genome Project
ISBN: 978-0-471-46186-9
Jan 2004
596 pages
Description
A unique exploration of the principles and methods underlying the Human Genome Project and modern molecular genetics and biotechnology-from two top researchers

In Genomics, Charles R. Cantor, former director of the Human Genome Project, and Cassandra L. Smith give the first integral overview of the strategies and technologies behind the Human Genome Project and the field of molecular genetics and biotechnology. Written with a range of readers in mind-from chemists and biologists to computer scientists and engineers-the book begins with a review of the basic properties of DNA and the chromosomes that package it in cells. The authors describe the three main techniques used in DNA analysis-hybridization, polymerase chain reaction, and electrophoresis-and present a complete exploration of DNA mapping in its many different forms. By explaining both the theoretical principles and practical foundations of modern molecular genetics to a wide audience, the book brings the scientific community closer to the ultimate goal of understanding the biological function of DNA. Genomics features:
Topical organization within chapters for easy reference
A discussion of the developing methods of sequencing, such as sequencing by hybridization (SBH) in which data is read through words instead of letters
Detailed explanations and critical evaluations of the many different types of DNA maps that can be generated-including cytogenic and restriction maps as well as interspecies cell hybrids
Informed predictions for the future of DNA sequencing
DNA Chemistry and Biology.

A Genome Overview at the Level of Chromosomes.

Analysis of DNA Sequences by Hybridization.

Polymerase Chain Reaction and Other Methods for In Vitro DNA Amplification.

Principles of DNA Electrophoresis.

Genetic Analysis.

Cytogenetics and Pseudogenetics.

Physical Mapping.

Enhanced Methods for Physical Mapping.

DNA Sequencing: Current Tactics.

Strategies for Large-Scale DNA Sequencing.

Future DNA Sequencing Without Length Fractionation.

Finding Genes and Mutations.

Sequence-Specific Manipulation of DNA.

Results and Implications of Large-Scale DNA Sequencing.

Appendix.

Index.
"this book is to be highly recommended..."(Human Genetics, May 2000)