Genomics and Genetics: From Molecular Details to Analysis and Techniques, 2 Volume Set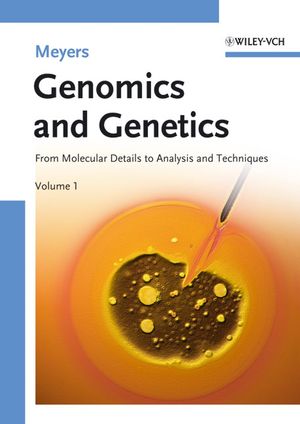 Genomics and Genetics: From Molecular Details to Analysis and Techniques, 2 Volume Set
ISBN: 978-3-527-31609-0 December 2006 Wiley-Blackwell 1228 Pages
Description
With contributions by two Nobel Laureates, this careful selection of high-quality articles from the well proven Encyclopedia of Molecular Cell Biology and Molecular Medicine spans the whole range of topics in genomics and genetics.
The first volume deals with molecular genetics, genomic organization and evolution, as well as genomes of model organisms, while the second goes on to treat genomic sequencing, genetic engineering and gene medicine and disease. Throughout, the chapters conform to a uniform structure, including a keyword glossary, a summary of the article in question and a list of literature references. The result is a readily accessible reference for geneticists, molecular biologists, biochemists, biotechnologists, pharmacologists, and developmental biologists, as well as those working in the pharmaceutical industry.
Buy Both and Save 25%!
Original Price:$1,370.00
Purchased together:$1,027.50
save $342.50
Cannot be combined with any other offers.
VOLUME 1
I MOLECULAR GENETICS
Genetics, Molecular Basis of
DNA Replication and Transcription
Translation of RNA to Protein
Alternatively Spliced Genes
Repair and Mutagenesis of DNA
Genomic Imprinting, Molecular Genetics of
Heterochromatin and Euchromatin-Organization, Packaging

II GENOMIC ORGANISATION AND EVOLUTION
Gene Distribution in the Human Genome
Anthology of Human Repetitive DNA
Repetitive sequence and noncoding DNA evolution in Eukaryotes
Horizontal Gene Transfer
Molecular Systematics and Evolution
Genetic Variation and Molecular Evolution

III GENOMES OF MODEL ORGANISMS
E.coli Genome
Drosophila Genome
Malaria Mosquito Genome
Zebrafish (Danio rerio) Genome and Genetics
Rat Genome (Rattus norvegicus)
Chimpanzee Genome

VOLUME 2
I GENOMIC SEQUENCING
Genomic DNA Libraries, Construction and Application
Shotgun Sequencing (SGS)
Whole Genome Human Chromosome Physical Mapping
Serial Analysis of Gene Expression
Gene Mapping by Fluorescence in Situ Hybridization
Gene Mapping and Chromosome Evolution by Fluorescence-Activated Chromosome Sorting

II GENETIC ENGINEERING
Gene Targeting
Antibody Molecules, Genetic Engineering of
Transgenic Fish
Transgenic Mice in Biomedical Research
Transgenic Plants for Food Use

III GENE MEDICINE AND DISEASE
Human Genetic Variation and Disease
Alzheimer´s Disease
Triplet Repeat Disease
Down Syndrome, Molecular Genetics of
Hemophilia, Molecular Genetics of
Gene Therapy and Cardiovascular Diseases
Somatic Gene Therapy