Geo-Business: GIS in the Digital Organization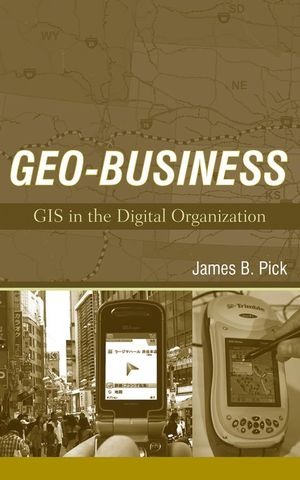 Geo-Business: GIS in the Digital Organization
ISBN: 978-0-471-72998-3
Jan 2008
416 pages
Description
Exploit the advantages of Geographic Information Systems in your business
Once the domain of cartographers and other specialists, Geographic Information Systems (GIS) are increasingly being employed by the business community. Location-based services, supply chain management, management of field-distributed equipment, geographical marketing and promotion, and the spatial web are some of the current business applications which make use of GIS principles.
Written specifically for the businessperson, Geo-Business: GIS in the Digital Organization is the first book to provide comprehensive coverage of GIS applications in the business and organizational environment.  Going beyond a strictly geographical focus, this book sets GIS in the context of business information systems and other business sub-disciplines such as logistics, marketing, finance, and strategic management. It presents from an organizational perspective the advantages of spatially enabling existing enterprise systems and illustrates how GIS is applied in the real world through rigorous case study analyses of twenty companies, including Baystate Health, Chico's, Kaiser Permanente, Lamar Advertising Company, Rand McNally, Southern Company, Sears Roebuck, and Sperry Van Ness.
In this book, you'll find out:
What GIS is and how it can be integrated into your organization's existing information infrastructure.
How GIS is currently making businesses better, and how you can apply the same techniques to your industry or organization.
The expanding roles of GIS and spatial technologies in the web and mobile environments.
The ethical, legal, and security issues of special technologies
How to conduct a cost/benefit and ROI analyses for GIS.
Grounded in the real world of business and IT, Geo-Business will show you how spatially enabling your IT systems can give you a unique advantage to beat your competitors in the market, win and retain customers, grow your business, make better decisions, develop new products and services, and optimize your workflow.
Buy Both and Save 25%!
Original Price:$250.00
Purchased together:$187.50
save $62.50
Cannot be combined with any other offers.
Buy Both and Save 25%!
Original Price:$275.00
Purchased together:$206.25
save $68.75
Cannot be combined with any other offers.
1. GIS in the Digital Economy.
2. Information Systems and GIS.
3. Supporting Business Decisions.
4. Enterprise Applications.
5. Customer Facing GIS: Web, E-Commerce, and Mobile Solutions.
6. Spatial Systems Development.
7. The Value of Investing in GIS.
8. Managing Spatial Data.
9. Organizational and Industry Aspects.
10. Industries and Outsourcing.
11. Ethical, Legal, and Security Issues of Spatial Technologies.
12. GIS and Business Strategy.
"This book is both an introduction to the field for IS people and a reference work that will be consulted as GIS problems and applications are encountered. The author is one of the few information systems people who have worked on GIS at both the practical and research levels over many years. Particularly useful are the references at the ends of the chapters, which point to places where a deeper understanding of each issue can be obtained. There is a lot here and all of it is useful." (
Information Systems Management
, June 2008)
"Pick's new book, is one of the few business-oriented GIS books to be written in the last several years." (Geoplace.com; 1/18/08)
The only book to present the advantages of spatially enabling existing enterprise systems, written from an organizational perspective.

Includes an introduction to GIS and how they can be integrated into an organizations existing information infrastructure.

Numerous real-world case studies make the case for how GIS is currently making businesses better, and how the reader can apply the same techniques to their industry or organization.

Includes discussion of cost/benefit analysis for GIS, and ROI analysis.

Discussion of the technology is mostly kept at the survey level, leaving  most of the technical and theoretical underpinnings of GIS and IT to specialized books.