Geographic Information Systems: An Introduction, 3rd Edition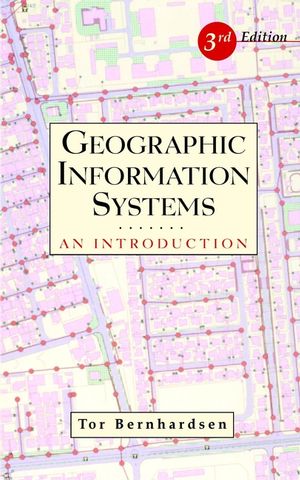 Geographic Information Systems: An Introduction, 3rd Edition
ISBN: 978-0-471-41968-6 May 2002 448 Pages
Description
"If we are to solve many of the problems facing us-in the cities, in the wild areas of the earth, in the atmosphere, and the oceans-we shall need the help of skilled users of GIS technology. If readers can master what is in this volume, they will be well started on this enterprise."
-From the Foreword by Jack Dangermond
President of ESRI
Praise for previous editions:
"One of only a small number of texts devoted to the technology of GIS that are truly introductory in nature. . . . Very readable and of moderate length. Those who are real novices to GIS will find this one attractive."
-Computers and Geosciences
"Well-rendered and very clear line drawings . . . well written, with a well-balanced blend of technical/theoretical concepts and more applied facts of GIS."
-Professional Geographer
Geographic Information Systems provides a practical, theory-driven overview of GIS that is supported with clear coverage of basic techniques. This treatment enables readers to understand the broad aspects of GIS without focusing on a specific software or discipline, such as engineering or geography. New features of this Third Edition include: up-to-date information on standardization efforts aimed at facilitating the exchange of ideas and data; technical content that is up to date with current hardware, software, database design, and analytical techniques; and comprehensive cost/benefit guidelines for choosing and evaluating a GIS, including coverage of organizational and technical issues.
Complete with extensive references and links to online resources, Geographic Information Systems, Third Edition, is an exceptional resource for students of GIS, planning, land use, natural resources, civil and environmental engineering, real estate, and wildlife biology.
Foreword.

Preface.

1 Geographical Information Systems and Graphical Information.

2 Historical Development: Geographical Data and GIS.

3 From the Real World to GIS.

4 Basic Data Models.

5 Advanced Data Models.

6 Georeferencing Systems.

7 Hardware and Communication Technology for GIS Applications.

8 Basic Software and Databases for GIS.

9 Data Collection I.

10 Data Collection II.

11 Data Quality.

12 Database Implementation and Spatial Indexing.

13 Housekeeping Tools.

14 Basic Spatial Analysis.

15 Advanced Analysis.

16 Visualization.

17 Choosing a GIS: Organizational Issues.

18 Choosing a GIS: Technical Issues.

19 Standards and Geospatial Infrastructure.

20 Formal Problems in Establishing GIS.

21 A Vision for the Future.

References.

Index.
Provides completely updated technical content to keep pace with the rapid advances in hardware, software, database design, and analytical techniques.
Includes a unique chapter on choosing and evaluating a GIS, included cost/benefit analysis and staffing consideration.
Clearly presented and illustrated.
Introduction by Jack Dangermond, President of ESRI, puts GIS in a broader context.
Includes new information on standardization efforts meant to facilitate the exchange of data.