Geography: Realms, Regions, and Concepts, 16th Edition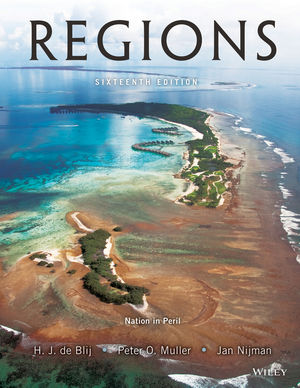 Geography: Realms, Regions, and Concepts, 16th Edition
ISBN: 978-1-118-79773-0
Oct 2013
656 pages
Description
Geography: Realms, Regions, and Concepts, 16th Edition helps readers build and develop their "mental map" of the world around them. Topics covered in this text are diverse and the skills, concepts, ideas, and terms that students are expected to learn are numerous. Regions is a time-tested and carefully crafted text with a long history of authority and dependability. The continued focus on creating strong and effective content and technology to empower learning allows instructors to structure their students' learning experience both inside and outside of the classroom. A robust suite of resources, assignments built around raw data, and map quizzes/tests encourage interaction at multiple cognitive levels. Having this interactivity built around "tried-and-true" content will help readers construct and explain their "mental maps" of the world while furthering their understanding and application of important concepts, ideas, and terms.
Every chapter has been updated with new content to reflect the geographic upheavals going on throughout the world. For example, chapter 7A and 7B document the progression of the Arab Spring, and how this has affected different national contexts. This is meant to familiarize the student with the rapidly changing global environment and shifting territories.
Highlights the growth of burgeoning megacities such as Tokyo, Moscow, and Istanbul. Also expanded the city maps in many of the Greatest Cities in the World boxes to reflect these changes
New and updated From the Field Notes as well as Voice from the Region in every chapter
Regions offers students the ability to learn the importance of Geography on a detailed level. Students learn about the constantly changing geography of our world through features such as:
The Voice From the Region feature is included in every chapter.  Each essay showcases the local perspective of an individual who resides in the realm.
In the Regional Issue Feature, two voices state opposing viewpoints regarding an issue that bedevils the realm and has geographic context. These comments are intended to stimulate discussion and debate.
Web-based GeoDiscoveries multimedia package. This multimedia resource contains a number of activities, links, lessons and quizzes for many of the key concepts studied in regional geography.
Table G-1, Area and Demographic Table for the World's States, which is a valuable resource and information base for students and instructors.