Geography Alive 10 For The Australian Curriculum eGuidePLUS (Online Purchase)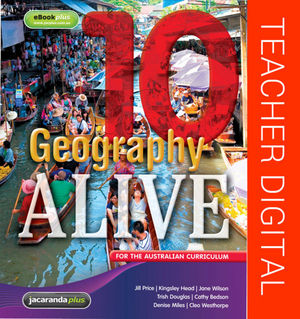 Geography Alive 10 For The Australian Curriculum eGuidePLUS (Online Purchase)
ISBN: 978-1-118-48923-9
Feb 2014, Jacaranda
Product not available for purchase
Description
Geography Alive 10 for the Australian Curriculum eGuidePLUS for teachers provides an electronic version of the student textbook, as well as a complementary set of targeted digital resources. These flexible and engaging resources are available to you online at the jacarandaPLUS website (www.jacplus.com.au).
Your eGuidePLUS resources include:
• Comprehensive teaching and assessment advice
• Answers to activities
• Australian Curriculum grids for each chapter.
What is onlinepurchase?
onlinepurchase is a Jacaranda digital only product.
Following payment you will receive a registration code via email.
Go to www.jacplus.com.au to register your code and access your digital resource
GEOGRAPHY ALIVE 10 CONTENTS*
UNIT ONE: ENVIRONMENTAL CHANGE
CHAPTER 1 Introducing environmental change and management
CHAPTER 2 Land: environments under threat
CHAPTER 3 Inland water: dammed, diverted and drained
CHAPTER 4 Coasts: managing change
CHAPTER 5 Marine: are we trashing our oceans?
CHAPTER 6 Built: sustaining built environments
UNIT TWO: GLOBAL GEOGRAPHIES OF HUMAN WELLBEING
CHAPTER 7 What makes a good life?
CHAPTER 8 Population and wellbeing
CHAPTER 9 Is life the same everywhere?
CHAPTER 10 Conflict ... flight or flee?
*Contents may vary slightly from the finalised textbook