Geography Alive 7 for the Australian Curriculum and eBookPLUS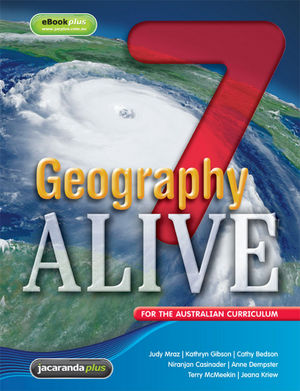 Geography Alive 7 for the Australian Curriculum and eBookPLUS
ISBN: 978-1-118-48908-6
Nov 2013, Jacaranda
176 pages
Product not available for purchase
Description

Geography Alive 7 for the Australian Curriculum is clearly structured around the Geographical Knowledge and Understanding from the specific Geographical Inquiry and Skills strands outlined in the Australian Curriculum.
KEY FEATURES
• Interactivities, weblinks and elessons integrated into each spread.
• New topics and content from a range of regions and scales around the world to address the requirements of the Australian Curriculum.
• Up-to-date case studies exclusively online, enabling information and statistics to be updated as required.
• Activities are clearly structured around the General Capabilities and the seven concepts outlined in the Australian Curriculum. They provide an opportunity for students to apply their understanding of the concepts to the content.
• Customised Geographical Inquiry or Fieldwork modules based on the popular ProjectsPLUS structure. These are designed to further develop students' Inquiry skills

Geography SkillBuilder
• New learning resource: the Jacaranda Geography SkillBuilder, comes free with Geography Alive. SkillBuilders have been enhanced as an interactive online resource, available in the eBookPLUS.
• Includes step-by-step recipes, supported by eLessons to practically demonstrates the steps.
• Opportunities for students to practise and apply skills to the topics, to deepen their understanding. Students can track their understanding and gain instant feedback from questions.

Geography Alive 7 for the Australian Curriculum Edition and eBookPLUS is a hard-copy student text accompanied by eBookPLUS.


 >eBookPLUS resources include:
• Access from any digital device PC/MAC/iPad/Android Tablet.
• Worksheets - Word documents designed for easy customisation and editing.
• Interactivities and games to reinforce and enhance student learning.
• eLessons - engaging video clips and supporting material.
• Weblinks to relevant support material on the internet.
• ProjectsPLUS - unique ICT-based projects that provide opportunities for students to demonstrate creativity, thinking skills and teamwork.
How to use this resource vi
About eBookPLUS x
Inside your Geography Alive eBookPLUS xi
Acknowledgements xii
What is Geography? 2
Geographical concepts 6
UNIT 1 WATER IN THE WORLD
Chapter 1 Water as a resource 14
1.1 What is a resource? 16
1.2 What are Australia's natural resources? 18
1.3 How do we use non-renewable energy? 20
1.4 Should Australia focus on using renewable energy? 22
SkillBuilder: Constructing a pie graph
1.5 Is water a renewable resource? 24
SkillBuilder: Annotating a photograph
1.6 How is groundwater used as a resource? 26
1.7 How do Indigenous people use groundwater? 28
REVIEW AND REFLECT
SUMMARY OF TERMS
Chapter 2 Our blue planet: water 32
2.1 How much water is there in the world? 34
2.2 What are some amazing water facts? 36
2.3 How does Australia's climate affect water availability? 38
SkillBuilder: How to read a map
2.4 How is water used by people? 40
SkillBuilder: Drawing a line graph
2.5 How is water used by indigenous people?
2.6 Does everyone have enough water? 42
2.7 How does access to water improve health? 44
2.8 What is virtual water? 46
2.9 How does water quality change? 48
2.10 How can water be managed? 50
REVIEW AND REFLECT
SUMMARY OF TERMS
Chapter 3 Too much, too little 54
3.1 What is weather? 56
SkillBuilder: Reading a weather map
3.2 How is a natural hazard different from a natural disaster? 58
3.3 Why do we experience droughts? 60
3.4 What are the impacts of drought? 62
3.5 Why does Australia experience bushfires?
3.6 What happened on Black Saturday?
3.7 How can we manage dry periods to reduce the impact of drought? 64
3.8 Why does it flood? 68
3.9 What are the impacts of floods? 70
3.10 How do places around the world manage floods? 72
SkillBuilder: Interpreting diagrams
REVIEW AND REFLECT
SUMMARY OF TERMS
Chapter 4 Blow wind, blow 74
4.1 Why does the wind blow? 76
4.2 How strong is the wind? 78
SkillBuilder: Cardinal points: wind rose
4.3 How do thunderstorms form? 80
4.4 What is a cyclone? 84
4.5 What impact did Cyclone Yasi have?
SkillBuilder: Creating a simple column or bar graph
4.6 What are the impacts of typhoons in Asia? 86
4.7 How do tornadoes impact people and the environment? 88
4.8 What was the impact of the May 2013 tornado in the United States?
4.9 What happens when water turns to ice and snow? 90
4.10 Are there water hazards in Mongolia?
4.11 How do we respond to extreme weather and water events? 92
REVIEW AND REFLECT
SUMMARY OF TERMS
UNIT 1 FIELDWORK INQUIRY
ProjectsPLUS What is the water quality of my local catchment? 96
UNIT 2 PLACE AND LIVEABILITY
Chapter 5 Where do Australians live? 100
5.1 What creates a sense of place? 102
5.2 Why do people live in certain places? 104
5.3 Where do you live and why? 106
5.4 Why do Australians live in remote places? 108
SkillBuilder: Using topographic maps
5.5 What draws people to rural areas? 110
5.6 Are rural communities sustainable?
5.7 What are 'lifestyle' places? 112
5.8 Where is my place? 116
5.9 Where would you like to live? 118
SkillBuilder: Creating a concept diagram
REVIEW AND REFLECT
SUMMARY OF TERMS
Chapter 6 People and places? 120
6.1 Do most Australians live near water? 122
SkillBuilder: Understanding satellite images
6.2 Where is the fastest growing place?
SkillBuilder: Using alphanumeric grid references
6.3 What is life like in a country town? 124
6.4 How does distance affect lifestyle? 126
6.5 How are places influenced by seasons?
6.6 Do places change over time? 128
6.7 What are isolated settlements like? 132
6.8 Are all settlements permanent?
6.9 What is Old Delhi like?
6.10 How is modern India changing?
REVIEW AND REFLECT
SUMMARY OF TERMS
Chapter 7 Liveable places 134
7.1 What is liveability? 136
7.2 Where are the most liveable cities? 138
SkillBuilder: Drawing a climate graph
7.3 What makes Melbourne the world's most liveable city?
7.4 Is being the most liveable city sustainable? 140
7.5 Port Moresby — a less liveable city? 142
7.6 Dhaka — a less liveable city?
7.7 Is there enough to eat? 144
7.8 How can liveability be improved? 146
7.9 What makes a place liveable for you? 148
SkillBuilder: Creating and analysing overlay maps
7.10 How could my community be made more liveable? 150
REVIEW AND REFLECT
SUMMARY OF TERMS
UNIT 2 GEOGRAPHICAL INQUIRY
ProjectsPLUS What is my place like? 154
Glossary 156
Index 160