Geography Militant: Cultures of Exploration and Empire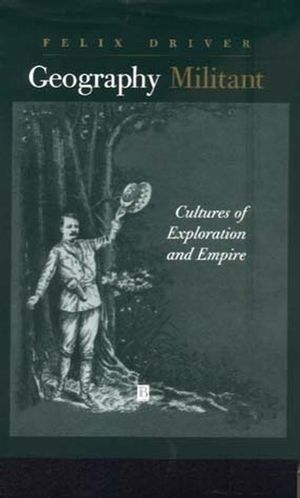 Geography Militant: Cultures of Exploration and Empire
ISBN: 978-0-631-20112-0
Oct 2000, Wiley-Blackwell
268 pages
Description
Geography Militant is a compelling account of the relations between geographical knowledge, exploration and empire.
Acknowledgements.
1. Geographical Knowledge, Exploration and Empire.
2. The Royal Geographical Society and the Empire of Science.
3. Hints to Travellers: Observation in the Field.
4. Missionary of Science: David Livingstone and the Exploration of Africa.
5. Becoming an Explorer: The Martyrdom of Winwood Reade.
6. Exploration by Warfare: Henry Morton Stanley and his Critics.
7. Making Representations: From an African Exhibition to the High Court of Justice.
8. Exploring Darkest England: Mapping the Heart of Empire.
9. Geography Militant and its After-life.
Index.
"A valuable contribution to the 'culture of exploration'. Geography militant lives on in advertising, photography, guide books, magazines and- virtually- in our imaginations."
Traveller Magazine
<!--end-->
"Expoliting the divide 'twixt' science and the sensational and pointing to differing geographies of various periods , this well wrought, closely knit book of nine illustrated chapters dwells on the age of exploration, colonization and the concomitant rise of the British Empire and its institutions. A listing of manuscripts consulted, extensive bibliography, and an index complete this rigorous work." Choice

"...consistently thoughtful and lively; Felix Driver produces a powerful sense of the complexity and strangeness of his material." Times Literary Supplement.

"extremely wide ranging book which raises a multitude of issues", Journal of European Studies.

" This book adds effectively to the traditional accounts of exploration known to so many of us" International Journal of Environement Studies

"a lot of material, many interesting ideas and observations, some fascinating juxtapositions, tantalizing suggestions, rich references, and polished prose ..." Environment and Planning

A "wonderful book [...] with Geography Militant Felix Driver has dined sumptuously at the Ritz-Carlton. To great advantage, he has quite successfully mined many veins of knowledge far bayond those disciplines where geographers normally toil. Each place is revealed as pertinent and fascinating [...] This volume contains so many meaty ideas, it is difficult [...] to give them the attention they properly deserve. Suffice to say, Felix Driver's Militant Geography is a tour de force. The research conducted to write this remarkable book is impeccable"
Terrae Incognitae, the journal of the Society for the History of Discoveries

"The range of material included in this book, only a portion of which can be covered here, is exceptional. Geography Militant is a welcome contribution and will certainly spark a reconsideration of assumptions in a number of fields, including the history of science, cultural history and the history of imperialism." Susan Schulten, the History of Science Society

"this splendid book describes the culture of exploration and the making of he discipline of Britain in the 'militant' epoch. So many themes and substantive descriptions tumble from these pages that summary is difficult" Christopher Lawrence, Medical History

[Driver contributes] to the ongoing project of reevaluating the history of Empire, demonstrating that the science of location and its graphic productions were far less stable and effective than postcolonial critics have claimed" Robert D. Aguirre, Victorian Studies
New perspective on the history of geographical exploration (concerned with the relationships between culture, science and empire).

Brings together a wealth of unpublished and published material in an engaging, well-illustrated and accessible book.

Interdisciplinary volume, that will appeal to historians, geographers, and those in cultural studies, as well as a lay audience.

Includes he latest scholarship on well-known explorers like Stanley & Livingstone.



Author is well known in geography, imperial history, Victorian studies, cultural studies.