Geometry Teacher's Activities Kit: Ready-to-Use Lessons & Worksheets for Grades 6-12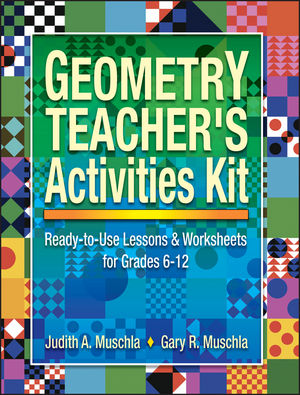 Geometry Teacher's Activities Kit: Ready-to-Use Lessons & Worksheets for Grades 6-12
ISBN: 978-0-130-60038-7
May 2001, Jossey-Bass
384 pages
Description
For all math teachers in grades 6-12, this practical resource provides 130 detailed lessons with reproducible worksheets to help students understand geometry concepts and recognize and interpret geometry's relationship to the real world. The lessons and worksheets are organized into seven sections, each covering one major area of geometry and presented in an easy-to-follow format including title focusing on a specific topic/skill, learning objective, special materials (if any), teaching notes with step-by-step directions, answer key, and reproducible student activity sheets. Activities in sections 1-6 are presented in order of difficulty within each section while those in Part 7, "A Potpourri of Geometry," are open-ended and may be used with most middle and high school classes. Many activities throughout the book may be used with calculators and computers in line with the NCTM's recommendations.
About Geometry Instruction.

How to Use this Resource.

Part 1. The Language of Geometry.

Part 2. Polygons--The Foundations.

Part 3. Polygons Advanced.

Part 4. Circles.

Part 5. 3-D Figures.

Part 6. Applications of Geometry.

Part 7. A Potpourri of Geometry.