German In Review: Lehrbuch der deutschen Grammatik, 4th Edition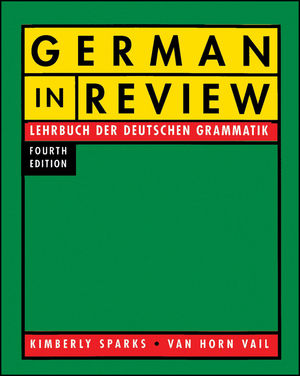 German In Review: Lehrbuch der deutschen Grammatik, 4th Edition
ISBN: 978-0-470-42429-2 July 2003 400 Pages
Description
Recognizing that students in a second or third year course come from a wide variety of backgrounds and skill levels,
German in Review
is designed to even the playing field by letting all students come into the classroom on an equal footing. Broken into two parts,
German in Review 4e
begins with the
Lehbruch
reference text, which is designed to re-introduce students to the essentials of modern German. Part Two, the
Übungsbuch
Classroom Manual, accompanies the main reference text. Working on the assumption that students have used the main text to bring them up to speed in any given area of German grammar, Part Two presents them with a series of new exercises that will confirm and extend what they have accomplished on their own. Taken together, the main text, Online Activities, and Classroom Manual free the instructor to use in-class time to a maximum advantage.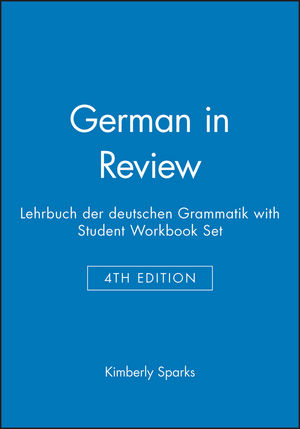 Buy Set of 2 Items
This item: German In Review: Lehrbuch der deutschen Grammatik, 4th Edition
Original Price:$298.90
Purchased Together:$281.95
save $16.95
Table of contents
1. Basic Sentence Structure

2. Verbs

3. Adjective Endings

4. Prepositions

5. Modal Auxiliaries

6. Time Expressions

7. Comparison of Adjectives and Adverbs

8. Passive Voice

9. Reflexive Pronouns and Verbs

10. Conjunctions

11. Subjunctive II

12. Infinitival Constructions

13. Relative Pronouns and Relative Clauses

14. Subjunctive I: Indirect Speech

15. Special Topics: Nouns and Pronouns

16. Special Topics: Verbs
Features
Web site with answer keys.To aid in self-study and help students prepare for class, answer keys to all Mixed and Express in German exercises are posted on an engaging and accessible web platform.