Get a Grip!: Overcoming Stress and Thriving in the Workplace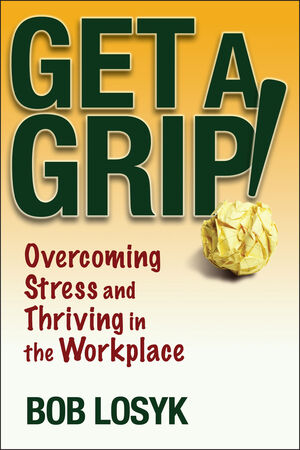 Get a Grip!: Overcoming Stress and Thriving in the Workplace
ISBN: 978-0-471-65949-5
Oct 2004
240 pages
Description
Practical tips and easy exercises for relieving the stress of everyday life
Get a Grip! offers powerful, prescriptive advice for living and thriving in our high-stress times. Integrating techniques that relax the mind, the body, and the spirit, it presents quick and easy ways to make the day less stressful-and get the most out of each and every day. For business owners, office workers, and even those who work at home raising a family, Get a Grip! helps them understand the sources of their stress and deal with it effectively with advice on such topics as: stress-busting exercises, breathing techniques, meditation, visualization, diet, attitude, humor and work/life balance. Though it's impossible to lead a completely stress-free life, Get a Grip! will help everyone-from CEOs to homemakers-deal with the difficulties of daily life.
Bob Losyk (Fort Lauderdale, FL) is a business consultant, trainer, and international speaker whose clients include American Express, Honda, Marriott, Taco Bell, IBM, and Inc. magazine, among others. His articles on management have appeared in such magazines as Futurist, Travel Weekly and Training & Development Journal.
Introduction.
1 Why Are We So Stressed Out?
How Stress Impacts the Workplace.
Why the Workplace Is Stressing You Out.
What Is Stress?
What Stress Is Doing to You.
2 Get a Grip or Burn Out.
Burnout's Impact.
What Is Burnout?
The Four Stages of Burnout.
Getting a Grip on Burnout.
3 Shaping Up to Keep Stress Down.
Why Working Out Keeps the Stress Out.
Common Sense Tips for Getting Started.
Three Ways to Destress.
Walking Away Stress.
Strengthening Your Grip.
More Choices to Check Out.
4 The Mind-Body Connection.
The Secret of the Ages.
Meditation: What It Can Do for You.
Meditation Guidelines.
Breathing: The Life Force.
Three Methods to Mellow Mindfulness.
5 Destressing Tools for Mind, Body, and Spirit Fitness.
Stretching for Destressing.
Pilates.
Tai Chi.
ChiGong.
Yoga 100
6 What's Food Got to Do with It?
Stress and the Brain Connection.
What's Eating You?
7 Tackling Stress with a Tickle.
The Benefits of Laughter.
Letting More Laughter into Your Life.
Employees Just Want to Have Fun.
8 Staying Sane While Traveling at Warped Speed.
Trying to Balance It All.
If You Do Not Know Where You Are Going, Any Road Will Take You There.
9 Get a Grip on Time.
Tracking Your Time.
If You Fail to Plan, You Plan to Fail.
Getting Loose from Time Abuse.
Perkies versus Grumpies.
Procrastination: The Saboteur of Success.
Cleaning Up Stuff.
Meeting Madness.
10 Fifty Ways to Leave Your Stressors.
11 Getting and Keeping Your Grip.
Setting New Goals for a Thriving Life.
The Choice Is Yours.
References.
About the Author.