Getting Action from Organizational Surveys: New Concepts, Technologies, and Applications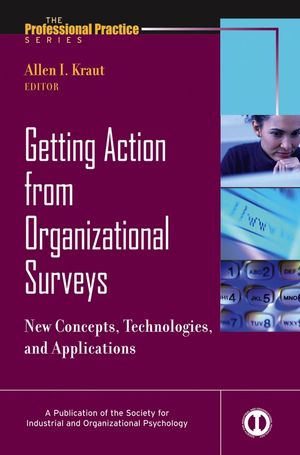 Getting Action from Organizational Surveys: New Concepts, Technologies, and Applications
ISBN: 978-0-787-97937-9
Feb 2006, Pfeiffer
672 pages
Description
Getting Action from Organizational Surveys provides the information industrial/organizational psychologists and human resource professionals need to put survey results into action—action that gets results. Edited by organizational survey pioneer Allen I. Kraut and contributed to by leading-edge practitioners, this comprehensive volume outlines new concepts to the survey lexicon, new methods of collecting and delivering results, new applications to various organizational situations, and new perspectives on how to look at and understand surveys and their place within organizations.
Buy Both and Save 25%!
Original Price:$198.00
Purchased together:$148.50
save $49.50
Cannot be combined with any other offers.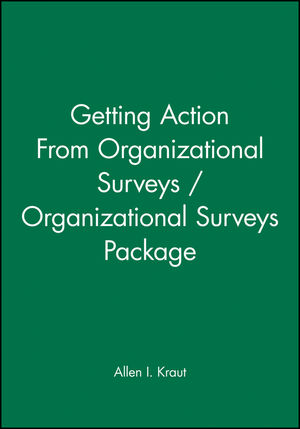 Original Price:$187.00
Purchased Together:$99.00
save $88.00
Foreword (
Allan H. Church, Janine Waclawski
).
Preface (Allen I. Kraut).
Acknowledgments.
The Authors.
1 Moving the Needle: Getting Action After a Survey (Allen I. Kraut).
Part One: New Concepts.
2 Connecting Employee Satisfaction to Business Unit Performance (James K. Harter, Frank L. Schmidt)
3 Employee Experiences and Customer Satisfaction: Toward a Framework for Survey Design with a Focus on Service Climate (William H. Macey, Benjamin Schneider).
4 Strategic Surveys: Linking People to Business Strategy (William A. Schiemann, Brian S. Morgan).
5 The Importance of Taking Action, Not Just Sharing Survey Feedback (Allan H. Church, David H. Oliver).
6 Organizational Surveys as Leverage for Organization Development and Change (W. Warner Burke).
7 Using Linkage Rsearch to Drive High Performance: A Case Study in Organization Development (Jack W. Wiley, Bruce H. Campbell).
Part Two: New Technologies.
8 Online Surveys: Critical Issues in Using the Web to Conduct Surveys (Kristofer J. Fenlason, Kathleen Suckow-Zimberg).
9 Online Reporting: Real Time, Real Impact, Real Opportunities (Karen M. Barbera, Scott A. Young).
10 What Did They Really Mean?: New and Emerging Methods for Analyzing Themes in Open-Ended Comments (Patrick Kulesa, Ralph J. Bishop).
11 Pulse Surveys: A Limited Approach with Some Unique Advantages (Joe Colihan, Janine Waclawski).
12 Oversurveying: Causes, Consequences, and Cures (Sara P. Weiner, Anthony T. Dalessio).
13 Understanding Nonresponse and Facilitating Response to Organizational Surveys (Steven G. Rogelberg).
14 Relative Weights of Predictors: What is Important When Many Forces are Operating (Kyle M. Lundby, Jeff W. Johnson).
15 National Norms Versus Consortium Data: What Do They Tell Us? (William H. Macey, Larry D. Eldridge).
16 Preparing and Presenting Survey Results to Influence Audiences (Sarah Rassenfoss Johnson).
17 How to Create Presentations That Spark Action (Ingwer Borg, Matthias Zimmermann).
Part Three: New Applications.
18 Measuring Employee Opinions During Mergers and Acquisitions (Mitchell Lee Marks, Daniel Baitch).
19 Leveraging Employee Surveys to Retain Key Employees: A Means to an End (Mitchelle A. Donovan, Scott M. Brooks).
20 Driving Change Around the World: Employee Surveys in Global Organizations (John C. Scott, Paul M. Mastrangelo).
21 Building an Inclusive Culture: The Communicating Managers Program (Robert J. Quinn).
22 Reengaging Employees During Turbulent Times (Sharon E. Parker, Michael J. Schroeder, J. Thomas Bowler, Jr., Patricia L. Muldoon).
23 Best Company Lists: Using Survey Data to Assess, Recognize, and Reward Organizations (Norman D. Costa, Peter Bachiochi).
24 An Executive and a Survey Model: A Follow-Up Action Success Story (Tracey Carsten Roll).
Name Index.
Subject Index.
""… offers great value in terms of instructional content."" (Training media Review, April 6 2007)