Getting Even: The Truth About Workplace Revenge--And How to Stop It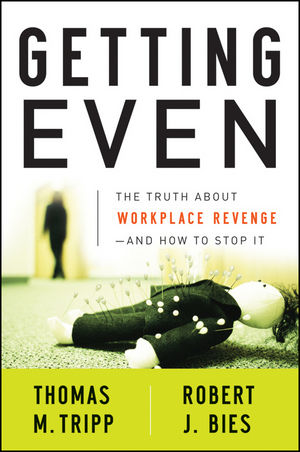 Getting Even: The Truth About Workplace Revenge--And How to Stop It
ISBN: 978-0-470-48499-9
Jan 2009, Jossey-Bass
240 pages
Description
Tripp and Bies educate employees and managers about the right and wrong ways to deal with workplace conflict, specifically revenge. The authors have amassed dozens of lively stories, insights and counter-intuitive truths to bring to the book. Not only will managers and employees find this information useful and entertaining, but most readers will find applications in their home lives as well as in their work lives.

The core argument is that revenge is about justice. Avenging employees are not unprofessional, out-of-control employees; rather, they are victims of offenses who feel compelled to seek justice on their own. The authors address specific questions, such as:
What kinds of offenses result in revenge?
Why do some victims respond more aggressively to harm than others?
What role does the organization play in how victims respond to offenses?
What's the best advice for managers who wish to prevent their employees from seeking revenge?
Most employees experience the desire for revenge, and are ready to settle their own scores at work when management won't enforce justice.
This book offers a model that sequences avengers' thoughts and behaviors, from the beginning of the conflict to its end. The model is grounded in scientific research and organizes disparate findings into a whole.
Preface.
1. An Introduction to Revenge in the Workplace.
2. Peering into the Soul of Discontent: The Phenomenon of Revenge.
3. Three Triggers of Revenge: Why People Try to Get Even.
4. You Started It! The Mind Game Inside the Blame Game.
5. "I'm as Mad as Hell and I'm not Going to Take It Anymore!": Understanding the Motivating Power of Righteous Anger.
6. You Started It—But I'll Finish It! How People Get Even.
7. Preventing Revenge Before It Happens: Practical Advice for Managers—And Would-Be Avengers.
8. Moving Beyond Revenge: Don't Get Mad, Don't Get Even—Get Ahead.
Bibliography.
Notes.
About the Authors.
Index.
"
Getting Even
...will disabuse you of many of the ways you think of revenge. The book is filled with stories of revenge, and many readers will find themselves feeling more sympathy for the person seeking revenge than the person on the receiving end- in fact, you might, like me, unexpectedly find yourself sometimes cheering the revenge-seekers on. The book is a nice mix of the academic and the populist [and] has so many anecdotes, it is very easy reading. It will alert you to the real story of revenge in your workplace - perhaps even remind you of some of your own efforts to get even - and hammer home that revenge is an everyday occurrence when injustices are allowed to occur."
—
Globe and Mail
, April 22, 2009
"Don't buy this book if you think it's a good source of really devilish and totally untraceable ways to get the revenge you so totally deserve…the authors seem intent in decreasing the amount of revenge that gets expressed in our daily work lives. Managers, too, will learn how to nip workplace revenge in the bud…"
—Work Daze, February 19, 2009
"The authors find that, for many, workplace revenge is about justice and restoring the balance of what they think is fair and right. The duo offers managers advice on how they can prevent their employees from seeking revenge. Grounded in 15 years of research, including more than 500 interviews with managers and workers about on-the-job revenge and retaliation, Bies and Tripp use lively anecdotes to illustrate the ways in which employees get even."
—Georgetown University's Blue and Gray, February 23, 2009