Getting New Clients, 2nd Edition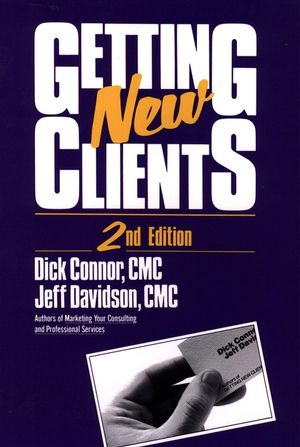 Getting New Clients, 2nd Edition
ISBN: 978-0-471-55528-5
Dec 1992
304 pages
Description
How to Get New Clients. And Keep Them. The Bible of New Business Growth-Fully Updated! "Getting New Clients helps solve the biggest problem marketing service professionals have…" —James Kennedy, Editor Consultant's News "Thorough, well written…" —Library Journal Now you have all the tools you need to build your practice with new business—the most important challenge facing any service professional starting or expanding a service firm. In step-by-step, user-friendly terms, Getting New Clients reveals Dick Connor's proven, client-centered marketing™ approach that will help you zero in on the needs of prospective markets and clients, get your foot in the door, and grab that profitable new business opportunity. Fully updated to include the latest consulting trends, the Second Edition shows you:
How to put together winning proposals and direct mail packages that get results
How to secure appointments with the people who make the go-ahead decision
How to operate within your "comfort zone" so you can work most productively
How to leverage your time and talents more effectively
And much more!
Partial table of contents:
DEVELOPING YOUR CLIENT-CENTERED AND NEW CLIENT ACQUISITION PROGRAM.
The Client-Centered Marketing System.
Getting New Clients by Targeting an Industry-Market Niche.
How to Select Your Target Niche.
Developing an Insider's Understanding of the Niche's Market.
Preparing Your Service Promotion and Delivery System.
Developing an Insider's Reputation in the Niche.
GETTING AND PREPARING FOR APPOINTMENTS WITH PROSPECTIVE CLIENTS.
Developing and Managing Your Initial-Contact Program.
Preparing for the Discussion.
CONDUCTING A WINNING NEW-BUSINESS DISCUSSION.
Defining the Existing Need Situation.
Presenting Your Proposed Solution.
Closing the Discussion and Moving to Action.
Reinforcing Your Clients Choice.
Glossary.
Resource Guide.
Index.