Getting Rich Your Own Way: Achieve All Your Financial Goals Faster Than You Ever Thought Possible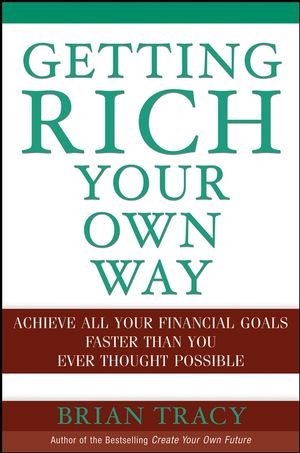 Getting Rich Your Own Way: Achieve All Your Financial Goals Faster Than You Ever Thought Possible
ISBN: 978-0-471-76806-7
Feb 2006
304 pages
Description
""Save yourself ten years of hard work. Read Brian's powerful book and let him show you the shortcut to success. He'll show you the fastest way for you to get rich.""
-Robert Allen bestselling author, Multiple Streams of Income

""Millions of people start with nothing and become wealthy as the result of doing certain things in a certain way, over and over again. This book by Brian Tracy shows you how you can achieve all your financial goals, starting from wherever you are today.""
-Jack Canfield coauthor, Chicken Soup for the Soul(r) series and The Success Principles

""This is the only book you need to read to become wealthy! It is loaded with practical ideas and strategies to propel you onwards and upwards.""
-Nido Qubein Chairman, Great Harvest Bread Company, and founder, National Speakers Association Foundation

""Another great book from Brian Tracy. Tangible, practical ideas that will make you money and make you rich!""
-Bill Bachrach President, Bachrach & Associates, Inc.

""Brian Tracy has put together a masterpiece of common sense for getting rich. If you wish a different life, commit now to different actions-read this book!""
-H. J. (Jim) Graham President and CEO, Cyber Broadcast One, Inc.

""Brian Tracy shows you how unlimited wealth starts in the mind, and how anyone can focus their time and energy to earn millions. It's the readable, riveting primer for countless new American fortunes.""
-Peter Montoya CEO, Peter Montoya Inc.
Preface.
Introduction.
The Difference between Success and Failure.
Starting with Nothing.
You Can Do It.
The Difference between Rich and Poor.
A Real Eye Opener.
The Miracle of Compound Interest.
You Can Learn What You Need to Learn.
1. Learn How to Become Rich.
Why People Don't Become Rich.
Five Ways to Stay Poor.
Five Ways to Become Rich.
Definition of Wealth.
Find a Need and Fill It.
Big Fortunes from Small Ideas.
One Idea Is All You Need.
Maximize Your Assets.
Become a No-Limit Person.
2. Become a Money Magnet.
Change Your Thinking, Change Your Life.
All Causation Is Mental.
Expect the Best.
Become a Living Magnet.
As Within, So Without.
The Laws Are Neutral.
What You Put In Determines What You Get Back.
Negative Thinking Drives Money Away.
Think Like the Rich Think.
Settle In for the Long Haul.
Learn What You Need to Learn.
The Great Truth.
You Will See It When You Believe It.
Resolve to Pay the Price.
Not for Everyone.
Get Serious.
Take Charge of Yourself.
You Must Want It Badly Enough.
Your Reasons Why.
Make Your Goals Specific.
Think Long-Term.
Give Yourself a Raise.
The Magic of Visualization.
Control Your Inner Dialogue.
Practice Affirmations.
You Can Do It.
Feed Your Mind with Mental Protein.
Get Around the Right People.
Sleep On It.
Imagine Your Ideal Life.
The Golden Hour.
Million-Dollar Habits.
The Rudder of the Day.
3. Invest for Success.
The Financial Planning Stool.
Invest the Way the Wealthy Invest.
Your Own Business.
Income-Producing Real Estate.
Land Held for Development.
Liquid Investments.
Stocks and Bonds.
Investment Alternatives Available to You.
Where to Put Your Money Conservatively.
Investing in the Stock Market.
Mutual Fund Investing.
Different Ways to Invest.
Guard Your Money Carefully.
4. Start with Nothing.
The Golden Chains.
The Statistics Are Dreadful.
Four Steps to Financial Success.
Five Ways to Become Wealthy.
The Starting Point of Riches.
Pay Yourself First.
Work Hard and Save Your Money.
Attract the Money You Want.
Starting with Nothing.
Pleasure and Pain.
The Wedge Strategy for Financial Success.
Don't Lose Money.
Strategies of the Wealthy.
Change Your Personality.
The Truth about Entrepreneurship.
Reasons for Business Failure.
Business Success Is Predictable.
Get On-the-Job Experience.
Learn While You Earn.
Five Keys to Business Success.
Use Your Job as a Springboard.
Do Your Research.
Practice the 10/90 Rule.
Study Successful Companies.
Five Rules for Entrepreneurship.
Network Marketing Opportunities.
Money in Your Mailbox.
Get Wired.
Start Small.
Trade Time for Experience.
Seven Steps to Business Success.
Be Action-Oriented.
Take a Chance.
Seven Steps to Financial Independence.
5. Build Your Own Business.
The Failure Rate Is High.
Seven Principles for Business Success.
The Factor of Three.
Questions You Must Ask and Answer to Succeed in Business.
The Great Marketing Questions.
Getting into the Game.
Test Your Idea Before You Invest.
Fast, Cheap Market Research.
Test-Market Your Product or Service.
How to Build a Profitable Business.
Business Opportunities Are Everywhere.
6. Market and Sell Anything.
Marketing and Sales Defined.
The Marketing Mix.
Five Rules for Selling Anything, Anywhere.
Five Questions You Must Answer.
Selling Your Product or Service.
Multiple Ways to Sell.
Start Small, Grow Slowly.
Master the Art of Selling.
Control the Revenues.
Opportunity Gap Analysis.
Getting Free Publicity.
Opportunities Everywhere.
Just Do It!
7. Get the Money You Need.
Ignorance Holds You Back.
Lack of Money.
Money Is Available Everywhere.
Determinants of Credit.
Choosing the Ideal Business for You.
You Can Start Today.
8. Think and Grow Rich.
You Are a Potential Genius.
Why Creativity Is So Important.
Use More of Your Intelligence.
Multiply Your Results.
As Within, So Without.
Stimulate Your Thinking.
The Qualities of Genius.
Thinking More Creatively.
Ways to Get Rich Your Own Way.
Clarity Is Essential.
Evaluating Your Ideas.
9. Learn from the Best.
Copy the Best in Your Business.
Qualities of the Great Ones.
Think Like a Champion.
Follow the Leaders.
The Qualities of Leadership.
Find Your Own "Acres of Diamonds".
Become an Apprentice.
Rent or Buy the Knowledge You Need.
Ask for Advice.
Study Successful Companies.
Learn by Trial and Error.
10. Lead the Field.
Three Pathways.
The Common Denominators.
Secrets of Health, Wealth, and Happiness.
Put Your Career onto the Fast Track.
Become a No-Limit Person.
Focal Point Advanced Coaching and Mentoring Program.
Index.
About the Author.