Getting Started in Bookkeeping For Dummies, Australian Edition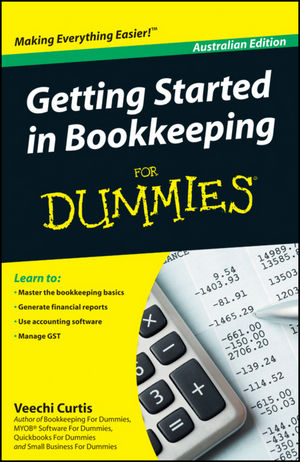 Getting Started in Bookkeeping For Dummies, Australian Edition
ISBN: 978-1-742-46874-7
Sep 2011
192 pages
Product not available for purchase
Description
Created especially for the Australian customer!
Learn the basics of bookkeeping and start on the path to success!
If you've been putting off sorting through a mountain of receipts and invoices, delay no more& — this straightforward reference will help keep the finances of any business, no matter how large or small, in order. Getting Started in Bookkeeping For Dummies explains the essentials, from understanding GST through to recording everyday transactions and whipping up flawless reports.
Get started with the basics — understand double-entry bookkeeping and how to handle debits and credits
Find accounting software — choose the accounting program that's right for you
Create record-keeping systems — set up procedures to help everyday business run smoothly
Track your transactions — record sales and payments, and reconcile accounts
Understand GST — calculate GST correctly and learn how to code transactions
Balance the books — reconcile bank accounts and make sure your work is spot on
General financial reports — provide accurate reports to help a business grow and succeed
Become a great bookkeeper — develop the right attitude for bookkeeping success
Open the book and find:
Simple ways to build a list of accounts
How to comprehend debits and credits
Tips for choosing accounting software
An explanation of GST and how it affects business transactions
Strategies for collecting overdue debts
Easy references for how to allocate tricky transactions
Advice on registering as a BAS agent
Introduction.
Part I: First Steps.
Chapter 1: Introducing the Bookkeeping Game.
Chapter 2: Creating a Framework.
Chapter 3: Going for the Big Equation.
Part II: Forming a Plan.
Chapter 4: Doing Business with Accounting Software.
Chapter 5: Understanding GST.
Part III: Recording Day-to-Day Transactions.
Chapter 6: Recording Expenses and Payments.
Chapter 7: Recording Receipts and Sales.
Chapter 8: Reconciling Accounts.
Chapter 9: Understanding Financial Reports.
Part IV: The Part of Tens.
Chapter 10: Ten Tricks for Collecting Money.
Index.