Getting Started in Estate Planning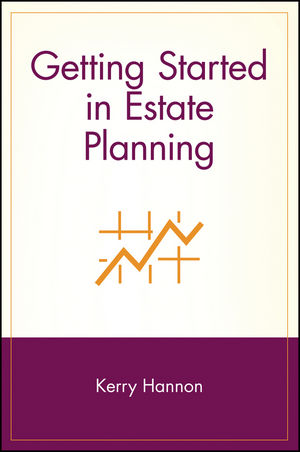 Getting Started in Estate Planning
ISBN: 978-0-471-38085-6
Sep 2000
240 pages
Description
Because You Can't Take it with You Getting Started in Estate Planning "I think it's irritating that once I die, 55% of my money goes to the United States government.. When you leave a house or money to people, then they're taxed 55%, so you've got to leave them enough so that once they're taxed, they still have some money." -- Oprah Winfrey (from The Wall Street Journal, July 28, 1999) Few of us are as rich as Oprah, but whether your estate consists of an old Ford Thunderbird, your beloved dog, or millions of dollars in property and cash, in most cases, it will be left behind after you're gone. As baby boomers approach retirement age and 401 (k) plans, stock options, and inherited wealth continue their dramatic growth, estate planning is increasingly necessary. Unless of course, you are content to leave your assets to your silent heir--the IRS. Getting Started in Estate Planning helps you take control of the planning process by sharing easy to-understand, proven strategies that everyone can use, either alone or with a professional planner, to protect their heirs for the future. Personal finance columnist Kerry Hannon helps you stop procrastinating and start establishing your goals, with guidance on such critical issues as:
* Determining the best way to dispose of your assets--and take care of your liabilities
* Deciding who should receive what--and when
* Providing for the care of minor children
* Lowering taxes so your heirs get the maximum benefits of your estate
* Choosing executors
* Surrendering ownership of assets
* Making your wishes known
* Special situations, including those of gay and lesbian couples and small business owners
* Ruling from the grave--when to let go
* Making changes as you go along
Filled with accessible strategies that are useful for all ages, Getting Started in Estate Planning will help you ensure that today's assets go where you want them to go tomorrow.
Estate Planning Defined.

Wills.

Putting Your Team Together.

Putting Together a Trust.

Estate Planning and Taxes.

Settling an Estate.

IRAs and Estate Planning.

Estate Planning for Family Businesses.

Estate Planning and Special Situations.

Talking to Your Parents.

Estate Planning via the Web.

Commonly Asked Questions.

Epilogue: Planning Ahead.

Appendices.

Glossary.

Index.