Getting Started in Finding a Financial Advisor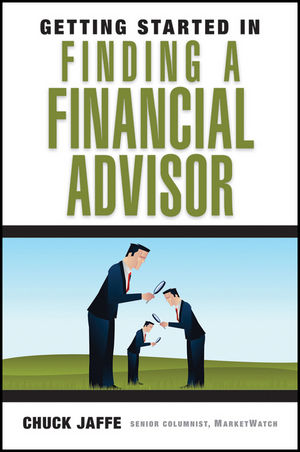 Getting Started in Finding a Financial Advisor
ISBN: 978-0-470-62477-7 March 2010 304 Pages
Description
An accessible guide that contains the tools needed to find trustworthy financial assistance
Given the events of the past two years-from bankruptcies to financial scams-it is more important than ever that investors understand who they are hiring to handle their finances.
Getting Started in Finding a Financial Advisor explores the important relationship between an investor and their financial advisor and examines how you should go about finding potential candidates. Along the way, it shows you how to interview and check the credentials of six key types of advisor so that you can spot and avoid rogues, scam artists, and incompetents. You will also learn how to understand what can happen if the institution or the advisor ends up in financial or legal difficulty. This insightful and useful guide

Helps you determine the kind of advisor best-suited for your situation
Provides interview questions, discusses what credentials really mean, and which are important
Explains in detail the issue of fiduciary responsibility of financial advisors, so you can find helpers who are on your side
Most people who give advice about money are trusted without actually earning that trust. Getting Started in Finding a Financial Advisor helps you set the highest standards, allowing you to locate professionals who can be trusted to protect your financial well-being and help you prosper.
Acknowledgments.
Introduction.
Part I: A Soup-To-Nuts Guide on Selecting Your Advisor.
Chapter 1: You Need Financial Help. Now What?
Chapter 2: You Get What You Pay For, and Pay for What You Get.
Chapter 3: The Seven Big Mistakes People Make When Hiring Advisers.
Chapter 4: Why You May Be the Only One You Can Trust.
Chapter 5: Swimming through Alphabet Soup.
Part II: Selecting, Interviewing and Getting Rid of Your Advisor.
Chapter 6: Your First Meeting with an Adviser.
Chapter 7: Interviewing a Financial Planner.
Chapter 8: Interviewing a Broker.
Chapter 9: Interviewing a Money Manager.
Chapter 10: Interviewing Insurance Agents.
Chapter 11: Interviewing an Accountant/Tax Preparer.
Chapter 12: Interviewing a Lawyer.
Chapter 13: Interviewing a Real Estate Agent.
Chapter 14: Get What You Need from References and Referrals.
Chapter 15: Breaking up Is Hard to Do.
The Last Word.
About the Author.
Index.