Getting Started in Futures, 5th Edition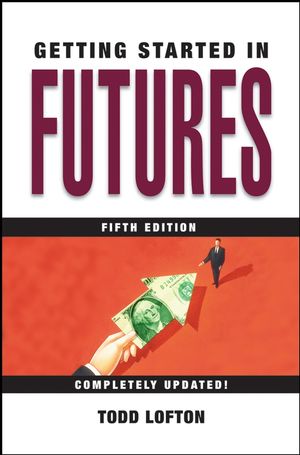 Getting Started in Futures, 5th Edition
ISBN: 978-0-471-73292-1
Aug 2013
284 pages
Description
""If you've never traded futures but would like to, this book is highly recommended. An excellent introduction to the futures markets and also a useful reference source for the seasoned trader.""
--Thomas E. Aspray, Editorial Director and Chief Analyst, Traders' Library

""No one explains complex financial strategies as clearly and intelligently as Todd Lofton. If you're intrigued by the possibility of making money in the futures markets, Getting Started in Futures is the very best place to start your education.""
--Karl Weber, coauthor (with Jonathan M. Tisch) of The Power of We: Succeeding Through Partnerships

Getting Started in Futures explains in simple, easy-to-understand terms everything you need to know to start trading futures successfully. You'll learn how to forecast prices, how hedging works, and how to take advantage of new electronic trading opportunities. The updated Fifth Edition includes discussions on the increasingly important role of futures markets in foreign currencies, equity indexes, interest rates, and proper money management. You'll also fin a complete chapter on single-stock futures -- the newest financial futures market. Order your copy today!
Preface.
Chapter 1: Introduction.
Chapter 2: Basic Terms and Concepts.
Chapter 3: Futures Markets Today.
Chapter 4: The Speculator.
Chapter 5: The Hedger.
Chapter 6: The Green Stuff.
Chapter 7: The Orders.
Chapter 8: The Arena.
Chapter 9: Fundamental Analysis.
Chapter 10: Technical Analysis.
Chapter 11: Hedging Revisited.
Chapter 12: The Financial Futures.
Chapter 13: Single-Stock Futures.
Chapter 14: Money Management for Speculators.
Chapter 15: Futures Options.
Chapter 16: Rules and Regulations.
Chapter 17: Contracts in Brief.
Chapter 18: Discover Electricity.
Chapter 19: Trading Futures Electronically.
Chapter 20: Day Trading.
Appendix A: More Chart Patterns and What They Mean.
Appendix B: More About Point-and-Figure Charts.
Appendix C: More About Moving Averages.
Appendix D: More About Stochastics and Relative Strength.
Appendix E: Single-Stock Futures Traded on OneChicago.
Appendix F: Single-Stock Futures Traded on LIFFE CONNECT.
Appendix G: Overseas Futures Markets.
Appendix H: Firms with Direct Access for Electronic Trading.
Index.