Getting Started in Investment Clubs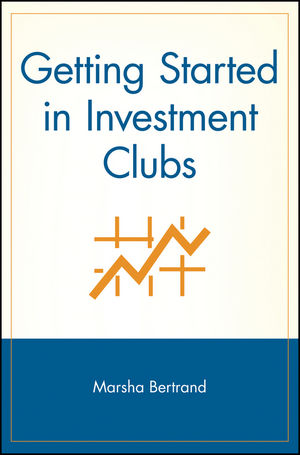 Getting Started in Investment Clubs
ISBN: 978-0-471-39227-9
Jan 2001
288 pages
Product not available for purchase
Description
HOW TO PUT THE GOLD INTO YOUR GOLDEN YEARS

If you are among the 56 percent of Americans lagging behind in their financial goals for retirement----or a retiree with plenty of years ahead in which your money can grow-an investment club may be the perfect vehicle for you. There are more than 37,000 investment clubs across the United States today, and this number has been steadily increasing over the past decade. This comprehensive guide will show you, step-by-step, how to take control of your financial future by utilizing the benefits, both financial and social, that investment club membership has to offer. Here you will find:
* Proven strategies for setting up an investment club that will survive changes in membership
* Advice on how to conduct your club's meetings, monitor its performance, and maintain members' active interest
* Numerous tips and tricks to help investment club members build and monitor their investment portfolios
* Methods for finding, researching, and presenting stock recommendations to other club members


. . . and much more to help you help your money grow.
Investment Clubs: Their Popularity and Growth.

Group Investing Versus Going It Alone.

Gathering Your Friends.

Structuring Your Club: The Five Decisions.

The Three Documents.

The Money Issues.

Learning the Ropes.

Creating a Winning Presentation.

Conducting Monthly Meetings.

Keeping the Records.

The Nuances of Building a Stock Portfolio.

To Sell or Not to Sell.

Dealing with Membership Changes.

Diversifying Your Club's Options.

Meeting in Cyberspace.

Using Your Investment Club Knowledge to Go It Alone.

Continuing Education.

Making Youre Investment Club Fun.

Looking at the Overall Picture.

Glossary.

Index.