Getting Started in Online Investing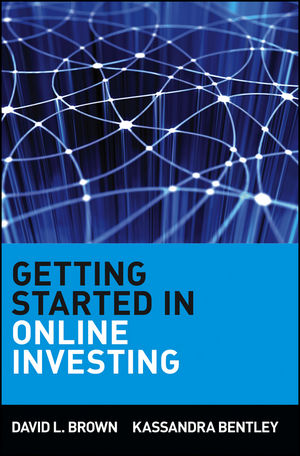 Getting Started in Online Investing
ISBN: 978-0-471-31703-6 April 1999 272 Pages
Description
In order to take full advantage of the myriad investment opportunities afforded by the Web, you need a solid, well-informed up-to-date primer. This book is it. Co-written by the CEO of Telescan, the leader in Internet investing technology, and the President of CyberInvest.com, one of the leading online investment guides, it shows you how to seamlessly find and effectively use the vast array of online resources so you can make smart, sound financial decisions.

Providing practical guidance to help you find your cyber-bearings, Getting Started in Online Investing walks you through the various stages of the investing process while highlighting the full range of tools for each. Covering everything from finding investment ideas to managing your portfolio to keeping up with the market, it gives you the lowdown on brokers, online trading, bonds, mutual funds, and futures, as well as the best sites for news, portfolio management, education, research, and much more. Packed with helpful screen captures from actual sites, this is the guide to have for navigating the complex and crowded information superhighway.
Online Investing: Where the Stree Meets the Web.

Easing In: A Quick Tour of Yahoo! Finance.

Finding Investment Ideas: Lists and Picks and Searches and Screens.

Doing Your Homework: Checking Facts, Pondering Patterns.

The Bottom Line: Managing Your Portfolio Online.

Bulls versus Bears: Keeping Up with the Market.

The Online Brokers: Trading on the Web.

Mutual Fund Madness: Where the Funds Are.

The FYI Chapter: Bonds, Options, Futures, and the Global Market.

Nurtured by the Net: IPOs, DPOs, DRIPs, DSPs, CHATs, and Banks.

Epilogue: Continuing Education.

Glossary.

Index.