Getting Started in Options, 8th Edition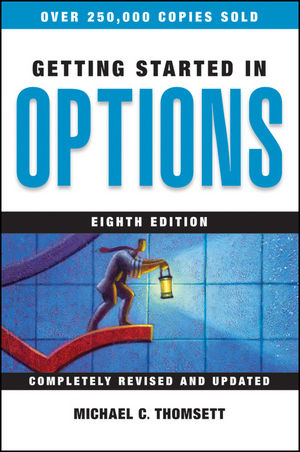 Getting Started in Options, 8th Edition
ISBN: 978-0-470-48003-8
Nov 2009
416 pages
Product not available for purchase
Description
An easy-to-read and updated guide to the dynamic world of options investing
During the recent market turmoil, option trading volume actually increased, but many are still unsure of the opportunities that options present, simply because they don't fully understand how this market works. With Getting Started in Options, Eighth Edition, author Michael C. Thomsett looks to change this. In non-technical, easy-to-follow terms, this accessible guide thoroughly demystifies the options markets, distinguishes the imagined risks from the real ones, and arms investors with the facts they need to make more informed decisions.
Opens with an introduction commenting on the recent market turmoil and the growing importance of options
Contains new chapters on futures and index options
Includes sidebar definitions and easy-to-follow examples that anyone can understand
Besides new examples, updated charts, and timely additions to reflect important changes in the markets, this edition also includes discussions on other important options issues, such as: how to calculate options returns; "test run" activities to try out new theories; and much more.
Acknowledgments.
Element Key.
Introduction to the 8th Edition.
Chapter 1 Calls and Puts: Defining the Field of Play.
Chapter 2 Opening, Closing, Tracking: How It All Works.
Chapter 3 Buys Calls: Maximizing the Rosy View.
Chapter 4 Buying Puts: The Positive Side of Pessimism.
Chapter 5 Selling Calls: Conservative and Profitable.
Chapter 6 Selling Puts: The Overlooked Strategy.
Chapter 7 Choosing Stocks: Finding the Right Ingredients.
Chapter 8 Strategies in Volatile Markets: Uncertainty as an Advantage.
Chapter 9 Combined Techniques: Creative Risk Management.
Chapter 10 Paper Trading: A Test Run of the Theory.
Chapter 11 Options for Specialized Trading: Leveraging the Technical Approach.
Chapter 12 Leveraging Your Leverage.
Chapter 13 Trading Index Options: Playing the Broader Market.
Chapter 14 Risk and Taxes: Rules of the Game.
Chapter 15 Calculating the Return: A Complex Aspect to Options.
Glossary.
Recommended Reading.
Index.