Getting Started in Rebuilding Your 401(k) Account, 2nd Edition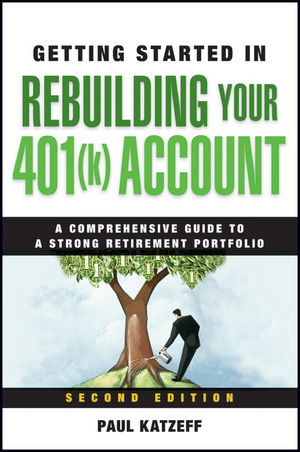 Getting Started in Rebuilding Your 401(k) Account, 2nd Edition
ISBN: 978-0-470-62292-6
May 2010
368 pages
Description
The essential guide to getting a 401(k) plan back on track
While a majority of workers have money invested in their 401(k) plans-and are relying on these funds for retirement-few truly understand how to manage and maintain these accounts, especially during the recent economic downturn. In 2008 alone, most 401(k) holdings declined by twenty percent. These losses, compounded by plan changes, have only led to more confusion.
The Second Edition of Getting Started in Rebuilding Your 401(k) Account offers up-to-date answers to frequently asked questions regarding these accounts and contains simple strategies for improving 401(k) returns-including moving money out of company stock, rolling over plans when leaving an employer, and moving some holdings to FDIC insured banks.
Explains the basics of 401(k) plans from what they are to how they work
Discusses new rules in the 401 (k) arena, from automatic enrollment to how plans can be taxed
Includes information on setting financial goals and choosing the investments that are right for you
401(k) plans have become a significant source of retirement funds for many. Learn how to make the most of them with the Second Edition of Getting Started in Rebuilding Your 401(k) Account.
Acknowledgments.
Introduction.
Hopping onto the 401(k) Bandwagon.
PART 1: UNDERSTANDING YOUR 401(k) PLAN: WHAT IT IS, HOW IT WORKS, AND WHY YOU NEED ONE.
Chapter 1: Basics of Your 401(k) Plan.
Chapter 2: Time and Money: Your Plan's Wealth-Building Weapons.
Chapter 3: Understanding More of the Advantages.
Chapter 4: Borrowing from Your 401(k) Account.
Chapter 5: Hardship Withdrawal.
Chapter 6: ABCs of Participation.
Chapter 7: Making Participation Easier:Automatic Enrollment.
Chapter 8: Learning Your Way around Your Plan.
Chapter 9: How to Withdraw Your Money.
Chapter 10: Roth 401(k) Accounts.
Chapter 11: Single-Participant 401(k) Plans.
PART 2: SETTING YOUR FINANCIAL GOALS: HOW MUCH MONEY WILL YOU NEED? WHERE WILL YOUR RETIREMENT INCOME COME FROM?
Chapter 12: How Taxes Can Take a Bite from Your Payouts.
Chapter 13: Living on Less.
Chapter 14: Measuring How Much Income You Will Need: Making Your Retirement Budget.
Chapter 15: How Much Money Do You Need to Save? Use the Retirement Savings Work Sheet in This Chapter to Find Out.
PART 3: MAKING A GAME PLAN—AND WINNING—UNDERSTANDING THE BIGGEST THREAT AGAINST YOUR RETIREMENT FINANCES, AND KNOWING HOW TO SELECT YOUR INVESTMENTS.
Chapter 16: Inflation:What It Is,How It Erodes Your Money, and Ways to Cope with It.
Chapter 17: Invest for the Long Haul.
Chapter 18: Invest for Steady Growth.
Chapter 19: Plan Ahead: Investment Strategy,Goals, and Time Horizon.
Chapter 20: What Is a Growth Stock Fund,Anyway?
Chapter 21: How to Pick a Growth Stock Fund.
Chapter 22: Premixed Funds.
Chapter 23: How to Do Your Investment Research.
Chapter 24: Taking Care of Your Account.
Chapter 25: Navigating Through Tough Times.
Chapter 26: Sources of Information.
Index.