Getting Started in Value Investing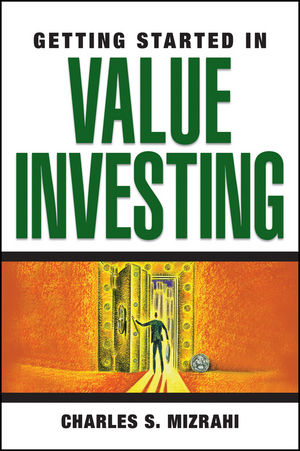 Getting Started in Value Investing
ISBN: 978-0-470-13908-0
Nov 2007
190 pages
Description
An accessible introduction to the proven method of value investing

An ardent follower of Warren Buffett-the most high-profile value investor today-author Charles Mizrahi has long believed in the power of this proven approach. Now, with Getting Started in Value Investing, Mizrahi breaks down this successful strategy so that anyone can learn how to use it in his or her own investment endeavors. Written in a straightforward and accessible style, this book helps readers gain an overall understanding of the value approach to investing and presents statistics that reveal the overwhelming success of this approach through a variety of markets. Engaging and informative, Getting Started in Value Investing skillfully shows readers how to look for undervalued companies and provides them with the tools they need to succeed in today's markets.

Charles S. Mizrahi (Brooklyn, NY) is Managing Partner of CGM Partners Fund LP. He is also editor of Hidden Values Alert, a monthly newsletter focused on value investing. Mizrahi has more than 25 years of investment experience and is frequently quoted in the press. Many of his articles appear online at gurufocus.com as well as on other financial sites.
Acknowledgements.
Introduction. Value Really Means Something.
Chapter 1. The 5 Misconceptions of Value Investing.
Chapter 2. The Basics of Value Investing: A Few Things You Must Know.
Chapter 3. Market Caveats: Lessons from the Past.
Chapter 4. Are Great Companies Great Investments? Stick with the Champs.
Chapter 5. Who's In Charge? Management Counts (more than money): Getting Comfortable with Management.
Chapter 6. Competition: Threat or Opportunity? The Enduring Competitive Advantage.
Chapter 7. The Essential Valuation Variables that Really Count: Part 1 - Financial Statement Basics.
Chapter 8. The Essential Operating Variables that Really Count: Part II - Bringing the Numbers to Life.
Chapter 9. The Price of a Stock versus the Value of the Company.
Chapter 10. Your Own Worst Enemy.
Chapter 11. My Final Words of Value.
Glossary.
Recommended Reading & Resources.
Endnotes.
Index.