Getting a Job in Hedge Funds: An Inside Look at How Funds Hire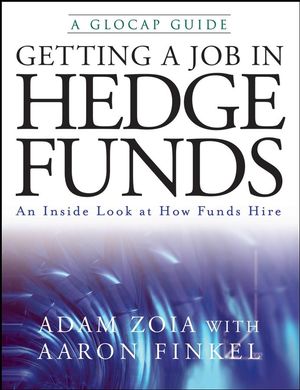 Getting a Job in Hedge Funds: An Inside Look at How Funds Hire
ISBN: 978-0-470-27850-5
May 2008
224 pages
Description
Getting a Job in Hedge Funds offers targeted advice for those looking to break into the hedge fund business. With this book, you'll learn where hedge funds traditionally look for new candidates, what sort of experience is needed to set yourself up for a position, and what can be done to improve your chances of getting into a hedge fund. If you're seriously considering a career in hedge funds, this book can help you secure a position in this profitable field.
Contents.
Preface.
About the Authors.
Chapter I. Getting Started.
Chapter II. Out of Undergrad.
Chapter III. Pre-MBA.
Chapter IV. Out of Business School.
Chapter V. Getting In Later In Your Career.
Chapter VI. Fund Marketing.
Chapter VII. Risk Management.
Chapter VIII. Operations.
Chapter IX. Accounting.
Chapter X. Fund of Hedge Funds.
Chapter XI. The Resume.
Chapter XII. The Interview.
Chapter XIII. Compensation.
Chapter XIV. Working With A Recruiter.
Appendix A. Resources.
Appendix B. Resumes.
A Pre-MBA: Bulge-Bracket Banker Lands At A Distressed Debt Fund.
B Pre-MBA: Getting In From A Second-Tier Bank.
C Pre-MBA: Making It With A Liberal Arts Degree.
D Pre-MBA: A Typical Banking Hire.
E Pre-MBA: Swapping the Sell-Side For A Long/Short Fund.
F Post-MBA: From Private Equity Into Hedge Funds.
G Post-MBA: A Banker Gets In.
H Marketing: Moving Into A Senior Role.
I Risk: Switching From The Sell-Side.
J Risk: Taking A Roundabout Route.
K Operations: The Basic Ops Hire.
L Accounting: An Ideal Accounting Hire.
Index.