Getting the Most from Online Learning: A Learner's Guide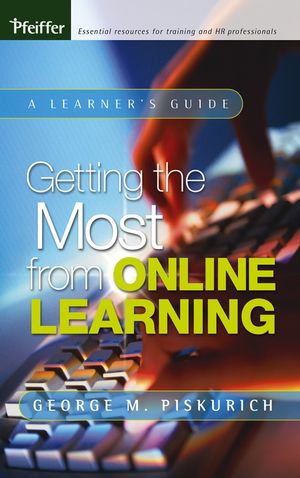 Getting the Most from Online Learning: A Learner's Guide
ISBN: 978-0-787-97701-6 May 2004 Pfeiffer 204 Pages
Description
Getting the Most from Online Learning is a must-have resource that helps people, become better e-learners by showing them how to prepare for, participate in, and apply e-learning in all its variations. Written by the leaders in e-learning, this book is filled with practical ideas, suggestions, and information about a wide variety of topics including how to:
Participate effectively in on-line learning experiences
Contribute to and learn from discussion groups and chat rooms
Handle e-learning peer evaluations
Participate in online group projects
In addition, the expert authors share their personal e-learning experiences and show how they have mastered the discipline of e-learning for themselves.
Introduction.
About the Editor.
1. Voices from the Edge of E-Learning (Janet F. Piskurich).
2. E-Learning: An Introduction (Huey B. Long).
3. Becoming a More Self-Directed Learner: Why and How (Lucy M. and Paul J. Guglielmino).
4. How to Prepare to Attend a Synchronous E-Learning Course (Bill Knapp).
5. How to Attend a Synchronous E-Learning Course (Bill Knapp).
6. Succeeding in an Asynchronous Learning Environment (Harvey Singh).
7. Chat Rooms and Discussion Boards (George M. Piskurich).
8. Online Readings: Gaining the Most from What You Read (Ryan Watkins).
9. How to Handle E-Learning Peer Evaluation (Russ Brock).
10. Building Successful Online Relationships (Doug Liberati).
11. Participating in Group Projects Online (Carole Richardson).
12. Managing Distractions for E-Learners (Wayne Turmel).
Glossary.
Index.