Give Your Trading the Edge: A Guide to Success on the Financial Markets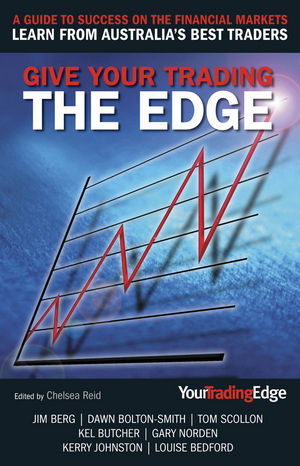 Give Your Trading the Edge: A Guide to Success on the Financial Markets
ISBN: 978-0-731-40560-2
Apr 2007, Wrightbooks
192 pages
Description
Give Your Trading the Edge is a compilation of key insights from well-known contributors to YourTradingEdge Magazine. Trading experts Louise Bedford, Jim Berg, Dawn Bolton-Smith, Kel Butcher, Kerry johnston, Gary Norden and Tom Scollon share their experiences and understanding of what it takes to succeed as a trader, without using the confusing jargon found in many trading publications.

Give Your Trading the Edge is ideal for anyone who is serious about trading  - whether a novice of a seasoned trader. It will assist traders who are facing challenges to their trading success and give them the knowledge and tools required to profit from the market.

Give Your Trading the Edge covers:
short- and long-term trading - the best approach for you
technical analysis - how to get the most from it
fundamental and technical analysis - how to combine the two to achieve optimal results
money management for trading success - the steps to enjoying your trading and investing
trading plans - how to build one that suits your lifestyle
thinking like a trader - an insight into the thought process and lessons essential for trading success
contracts for difference (CFDs) - key trading strategies.
Discover how to give your trading the edge!
Preface
Part I Starting out
Should I be a short- or long-term trader?
Can I make a living from trading?
Enjoying your trading and ivnesting
Part II Becoming a good trader
Building a trading plan to suit your lifestyle
Learning to think like a trader
Playing the probability game of trading
Part III Techniques of analysis and selection
Combining fundamental and technical analysis
Creating watchlists
Why technical analysis?
Conducting advanced analysis using Gann
Part IV CFD trading
CFDs and how you can use them
CFD trading strategies
Index