Glial Neurobiology: A Textbook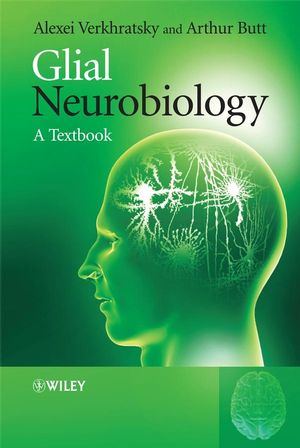 Glial Neurobiology: A Textbook
ISBN: 978-0-470-51307-1 August 2007 230 Pages
Description
"This volume is a very valuable and much needed contribution."
–Quarterly Review of Biology
AT LAST - A comprehensive, accessible textbook on glial neurobiology!
Glial cells are the most numerous cells in the human brain but for many years have attracted little scientific attention. Neurophysiologists concentrated their research efforts instead, on neurones and neuronal networks because it was thought that they were the key elements responsible for higher brain function. Recent advances, however, indicate this isn't exactly the case. Not only are astroglial cells the stem elements from which neurones are born, but they also control the development, functional activity and death of neuronal circuits. These ground-breaking developments have revolutionized our understanding of the human brain and the complex interrelationship of glial and neuronal networks in health and disease.
Features of this book:
an accessible introduction to glial neurobiology including an overview of glial cell function and its active role in neural processes, brain function and nervous system pathology
an exploration of all the major types of glial cells including: the astrocytes, oligodendrocytes and microglia of the ACNS and Schwann cells of the peripheral nervous system; the book also presents a broad overview of glial receptors and ion channels
an investigation into the role of glial cells in various types of brain diseases including stroke, neurodegenerative diseases such as Alzheimer's, Parkinson's and Alexander's disease, brain oedema, multiple sclerosis and many more
a wealth of illustrations, including unique images from the authors' own libraries of images, describing the main features of glial cells
Written by two leading experts in the field, Glial Neurobiology provides a concise, authoritative introduction to glial physiology and pathology for undergraduate/postgraduate neuroscience, biomedical, medical, pharmacy, pharmacology, and neurology, neurosurgery and physiology students. It is also an invaluable resource for researchers in neuroscience, physiology, pharmacology and pharmaceutics.
Table of contents
Preface.
List of abbreviations.
PART I Physiology of Glia.
1 Introduction to Glia.
1.1 Founders of glial research: from Gabriel Valentin to Karl-Ludwig Schleich.
1.2 Beginning of the modern era.
1.3 Changing concepts: Glia express molecules of excitation.
1.4 Glia and neurones in dialogue.
2 General Overview of Signalling in the Nervous System.
2.1 Intercellular signalling: Wiring and volume modes of transmission.
2.2 Intracellular signalling.
3 Morphology of Glial Cells.
3.1 Astrocytes.
3.2 Oligodendrocytes.
3.3 NG2 expressing glia.
3.4 Schwann cells.
3.5 Microglia.
4 Glial Development.
4.1 Phylogeny of glia and evolutionary specificity of glial cells in human brain.
4.2 Macroglial cells.
4.3 Astroglial cells are brain stem cells.
4.4 Schwann cell lineage.
4.5 Microglial cell lineage.
5 General Physiology of Glial Cells.
5.1 Membrane potential and ion distribution.
5.2 Ion channels.
5.3 Receptors to neurotransmitters and neuromodulators.
5.4 Glial syncytium – gap junctions.
5.5 Glial calcium signalling.
5.6 Neurotransmitter release from astroglial cells.
5.7 Glial neurotransmitter transporters.
5.8 Glial cells produce and release neuropeptides.
5.9 Glial cell derived growth factors.
6 Neuronal–Glial Interactions.
6.1 Close apposition of neurones and astroglia: the tripartite synapse.
6.2 Neuronal–glial synapses.
6.3 Signalling from neurones to astrocytes.
6.4 Signalling from astrocytes to neurones.
6.5 Signalling between oligodendrocytes and neurones.
6.6 Signalling between Schwann cells and peripheral nerves and nerve endings.
PART II Glial Cells and Nervous System Function.
7 Astrocytes.
7.1 Developmental function – producing new neural cells.
7.2 Developmental function – neuronal guidance.
7.3 Regulation of synaptogenesis and control of synaptic maintenance and elimination.
7.4 Structural function – creation of the functional microarchitecture of the brain.
7.5 Vascular function – creation of glial–vascular interface (blood–brain barrier) and glia–neurone–vascular units.
7.6 Regulation of brain microcirculation.
7.7 Ion homeostasis in the extracellular space.
7.8 Regulation of extracellular glutamate concentration.
7.9 Water homeostasis and regulation of the extracellular space volume.
7.10 Neuronal metabolic support.
7.11 Astroglia regulate synaptic transmission.
7.12 Integration in neuronal–glial networks.
7.13 Astrocytes as cellular substrate of memory and consciousness?
8 Oligodendrocytes, Schwann Cells and Myelination.
8.1 The myelin sheath.
8.2 Myelination.
8.3 Myelin and propagation of the action potential.
PART III Glia and Nervous System Pathology.
9 General Pathophysiology of Glia.
9.1 Reactive astrogliosis.
9.2 Wallerian degeneration.
9.3 Activation of microglia.
10 Glia and Diseases of the Nervous System.
10.1 Alexander's disease.
10.2 Spreading depression.
10.3 Stroke and ischaemia.
10.4 Cytotoxic brain oedema.
10.5 Neurodegenerative diseases.
10.6 Neuropathic pain.
10.7 Demyelinating diseases.
10.8 Infectious diseases.
10.9 Peripheral neuropathies.
10.10 Psychiatric diseases.
10.11 Gliomas.
Conclusions.
Recommended literature.
Author Index.
Subject Index.
Reviews
"This volume is a very valuable and much needed contribution." (Quarterly Review of Biology, December 2008)
Features
Generously illustrated with figures, including unique images from the authors' own libraries of images, describing the main features of glial cells.
Includes numerous in-text boxes to highlight and summarize key facts.
An associated Web site includes the artwork program from the textbook, as a set of PowerPoint slides and additional resources, including; live data (e.g. calcium signaling) and annual updates.