Global Challenges: War, Self-Determination and Responsibility for Justice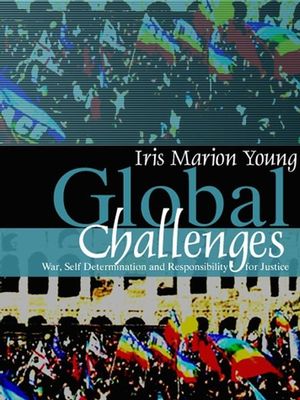 Global Challenges: War, Self-Determination and Responsibility for Justice
ISBN: 978-0-745-63834-8 January 2007 Polity 224 Pages
Description
In the late twentieth century many writers and activists envisioned new possibilities of transnational cooperation toward peace and global justice. In this book Iris Marion Young aims to revive such hopes by responding clearly to what are seen as the global challenges of the modern day.
Inspired by claims of indigenous peoples, the book develops a concept of self-determination compatible with stronger institutions of global regulation. It theorizes new directions for thinking about federated relationships between peoples which assume that they need not be large or symmetrical. Young argues that the use of armed force to respond to oppression should be rare, genuinely multilateral, and follow a model of law enforcement more than war. She finds that neither cosmopolitan nor nationalist responses to questions of global justice are adequate and so offers a distinctive conception of responsibility, founded on participation in social structures, to describe the obligations that both individuals and organizations have in a world of global interdependence.
Young applies clear analysis and cogent moral arguments to concrete cases, including the wars against Serbia and Iraq, the meaning of the US Patriot Act, the conflict in Palestine/Israel, and working conditions in sweat shops.
Table of contents
Acknowledgments.
Introduction.
Part I: Self-Determination.
1: Hybrid Democracy: Iroquois Federalism and the Postcolonial Project.
2: Two Concepts of Self-Determination.
3: Self-Determination as Non-Domination: Ideals Applied to Palestine/Israel.
Part II: War and Violence.
4: Power, Violence and Legitimacy: A Reading of Hannah Arendt in an Age of.
Police Brutality and Humanitarian Intervention.
5: Envisioning a Global Rule of Law (with Daniele Archibugi).
6: The Logic of Masculinist Protection: Reflections on the Current Security.
State.
7: De-Centering the Project of Global Democracy.
8: Reflections on Hegemony and Global Democracy.
Part III: Global Justice.
9: Responsibility, Social Connection, and Global Labor Justice.
Notes.
Index
Reviews
"Young's posthumous volume is a thought-provoking contribution to the ongoing debate on how best to reformulate key concepts in international relations theory for the purpose of critical analysis."

Marit Hovdal Moan, Journal of Peace Research
"This work offers a new facet for international discourse not only on violence, war and conflict resolution, but also about issues relating to sovereignty, global governance, peace and justice. The author's knowledge and enthusiasm for the subject are compelling. An admirable aspect of the book is the treatment of the topics from theoretical and comparative perspectives before putting them into specific contexts; this provides the book's strength. The massive amount of data and information assembled in the process also offer much material to both the general reader and experts eager for an alternative approach to thinking about war, violence, peace building, sovereignty and conflict resolution."
Sociology
"Global Challenges is a collection of essays that apply Iris Young's penetrating philosophical inquiry to some of the most important issues in world politics today. Young brings a thoughtful critical analysis of self-determination, humanitarian intervention, violence, global democracy and justice to matters ranging from the wars in Iraq and Afghanistan to the anti-sweatshop movement in the garment industry. This deeply ethical book is a must-read for students of global politics and international theory. Young's courageous moral stand against injustice and war gives us a realistic road-map for a more just and peaceful future. Her wise counsel will be sorely missed."
J. Ann Tickner, University of Southern California
"This collection combines all that is remarkable in Iris Marion Young's work – her philosophical clarity, her moral anger with violence and injustice, and her irrepressible belief in the possibility of a better world. Global Challenges helps us think more clearly about what it means to bear responsibility for injustices in other parts of the world, and what self-determination means in a context of global interdependence."
Anne Phillips, London School of Economics
"Realistic, yet hopeful, these last essays by Iris Young show that a different world is possible. She understands well the massive weight of globalizing structures that inflict violence, domination, uniformity. But her lucid analyses illustrate how intelligent politics can resist, deflect, and reform these forces – through new ideas, developed specifically for particular contexts of oppression, and through collaboration with existing social movements (anti-war, anti-sweatshops). Appreciating how she interprets the world differently, we learn how to change it."
Thomas Pogge, Columbia University
"Iris Marion Young was one of the truly original political theorists of our dark times. She brought something new into the world. This superb collection of articles on global politics, all first published between 2000 and 2006, is exemplary of her courageous and challenging practice of critical thought at its best."
James Tully, University of Victoria
Features
This is a collection of essays by one of the most distinguished figures in International politics.

Clear and accessible essays written with a deep commitment to global justice.

Framed with a new introduction written especially for this collection which places essays within the frame of February 15th protest marches in 2003 – very relevant and up to date.

Essential reading for anyone concerned with debates about global justice and democracy.

An engaging and controversial book, written for students and the general reader.