Global Communication: Theories, Stakeholders, and Trends, 3rd Edition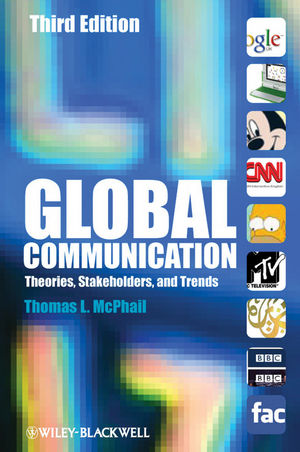 Global Communication: Theories, Stakeholders, and Trends, 3rd Edition
ISBN: 978-1-444-32595-9
May 2012, Wiley-Blackwell
416 pages
Description
Global Communication is the most definitive text on multi-national communication and media conglomerates, exploring how global media, particularly CNN, the BBC, Euronews, and Al Jazeera, influence audiences and policy makers alike.  
Includes four completely new chapters on Asian media, Euromedia, the Middle East, and public diplomacy from a post 9/11 perspective
Updates the story of arab media with a section on "Arab Media and the Al Jazeera Effect" by Middle East-based expert Lawrence Pintak

Covers the global war on terrorism and the substantial US investment in Iraqi media

Provides updated accounts and overviews of the largest and most important media corporations from around the world, from MTV and CNN to Bollywood

Incorporates discussions of Hulu, YouTube, Myspace, and the Twitter phenomenon as well as new stakeholders in global online media 
List of Figures and Tables.
Notes on Contributors.
Preface.
1 Global Communication: Background.
2 Development Research Traditions and Global Communication.
3 The Message: The Role of International Organizations.
4 Public Diplomacy: New Dimensions and Implications (Nancy Snow).
5 The Medium: Global Technologies and Organizations.
6 Internet: The Evolving Frontier.
7 American Multimedia Conglomerates.
8 Non-US Stakeholders of Multimedia Conglomerates.
9 Euromedia: Integration and Cultural Diversity in a Changing Media Landscape (Alexa Robertson).
10 Global Issues, Music, and MTV.
11 CNN: International Role, Impact, and Global Competitors.
12 The Roles of Global News Agencies.
13 Arab Media and the Al-Jazeera Effect (Lawrence Pintak).
14 Media Globalization in Asia (Junhao Hong).
15 The Role of Global Advertising.
16 Summary and Conclusions.
Select Bibliography.
Index.
Includes four completely new chapters on Asian media, Euromedia, the Middle East, and public diplomacy from a post 9/11 perspective
Updates the story of arab media with a section on "Arab Media and the Al Jazeera Effect" by Middle East-based expert Lawrence Pitnak

Covers the global war on terrorism and the substantial US investment in Iraqi media

Provides updated accounts and overviews of the largest and most important media corporations from around the world, from MTV and CNN to Bollywood

Incorporates discussions of Hulu, YouTube, Myspace, and the Twitter phenomenon as well as new stakeholders in global online media 
Includes three completely new chapters on Asian media, Euromedia, and public diplomacy from a post 9/11 perspective
Updates the story of arab media with a section on "Arab Media and the Al Jazeera Effect" by Middle East-based expert Lawrence Pitnak

Covers the global war on terrorism and the substantial US investment in Iraq media

Provides updated accounts and overviews of the largest and most important media corporations from around the world, including everything from MTV and CNN to Bollywood

Incorporates discussions of Hulu, YouTube, Myspace, and the Twitter phenomenon as well as new stakeholders in global online media