Global Democracy and Exclusion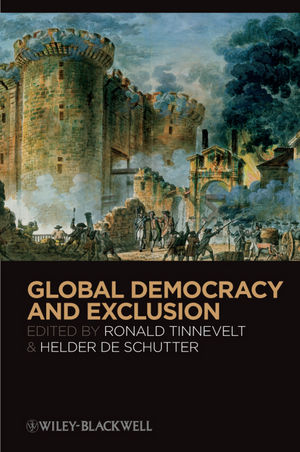 Global Democracy and Exclusion
ISBN: 978-1-444-35194-1 July 2011 Wiley-Blackwell 256 Pages
Description
The essays in this book explore the consequences of globalization for democracy, covering issues which include whether democracy implies exclusion or borders, and whether it is possible to create a democracy on a global level.
Explores the consequences of globalization for democracy
Discusses whether democracy implies exclusion or boundaries
Makes sense of democracy and human rights in a globalizing world
Investigates what kind of common identity can and should support forms of global democracy
Presents a state-of-the-art analysis of the foundations of global democracy
1. Introduction
(Ronald Tinnevelt and Helder De Schutter, Radboud University Nijmegen and Katholieke Universiteit Leuven).
2. Cosmopolitanism and human rights: Radicalism in a global age (Robert Fine, University of Warwick).
3. The Resurgent Idea of World Government (Campbell Craig, University of Southampton).
4. Structuring Global Democracy: Political Communities, Universal Human Rights, and Transnational Representation (Carol Gould, Temple University).
5. Federative Global Democracy (Eric Cavallero, Southern Connecticut State University).
6. Interaction-Dependent Justice and the Problem of International Exclusion (Raffaele Marchetti, LUISS University and University of Naples L'Orientale).
7. Cosmopolitan Democracy and the Rule of Law (William E. Scheuerman, Indiana University).
8. A-Legality: Postnationalism and the Question of Legal Boundaries (Hans Lindahl, University of Tilburg).
9. The conflicting loyalties of statism and globalism: Can global democracy resolve the liberal conundrum? (Deen Chatterjee, University of Utah).
10. Universal Human Rights as a Shared Identity. Impossible? Necessary? (Andreas Follesdal, University of Oslo).
11. Motivating the Global Demos (Daniel Weinstock, University of Montreal).
12. Is liberal Nationalism incompatible with global democracy? (Helder De Schutter and Ronald Tinnevelt, Katholieke Universiteit Leuven and Radboud University Nijmegen).
13. Immigration, nationalism, and human rights (John Exdell, Kansas State University).
Index.