Global Environmental Economics: Equity and the Limits to Markets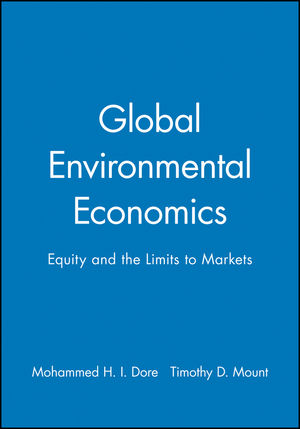 Global Environmental Economics: Equity and the Limits to Markets
ISBN: 978-0-631-21030-6 December 1998 Wiley-Blackwell 378 Pages
Description
The work also illustrates that new developments in social choice theory offer a better foundation than traditional welfare economics.
Preface.
Introduction.
Part I: Rights, Preferences and Well-Being.
1. The Economics of Well-Being: A Review of Post Welfarist Economics. (Mohammed Dore).
2. Bequeathing Hazards: Security Rights and Property Rights of Future Humans. (Henry Shue).
3. Non-Use Values and the Limits of Cost Benefit Analysis. (Marc Willinger).
Part II: Equity and Environmental Options.
4. Environmental Uncertainty and Future Generations. (Vercelli).
5. Environmental Option Values: A Critical Assessment. (Marcello Basili and Alexandro Vercelli).
6. Risk and Uncertainty in Environmental Policy Evaluation. (Tony Ward).
Part III: Population and the Environment.
7. The Dynamics of Socio-Environmental Change and the Limits of Neo-Malthusian Environmentalism. (Peter Taylor and Raúl García-Barrios).
8. Population Growth and the State: Reconciling Private Wants and the Public Interest. (Paul Demeny).
Part IV: After RIO: Global Action on Equity and the Environment.
9. Greenhouse Negotiations and the Mirage of Partial Justice. (Erik Schokkaert and Johan Eyckmans).
10. Market-Structuring Regulation and the Ozone Regime: Politics of the Montreal Protocol. (Ronald Herring).
11. Lessons from the Earth Summit: Protecting and Managing Biodiversity in the Tropics (P. S. Ramakrishnan).
Part V: Sectoral Studies of Equity and the Environment.
12. Industrial and Resource Location, Trade and Pollution. (Duane Chapman and Jean Agras and Vivek Suri).
13. Sharing Common Property Resources: The North Atlantic Cod Fishery. (Daniel Gordon and K. K. Klein).
14. Redirecting Energy Policy in the USA to Address Global Warming. (Tim Mount).
Epilogue.
Reference.
"After reconnecting neo-classical economic theory to moral philosophy, these essays systematically describe the real challenges of global environmental economics and politics in a world of future uncertainties. Putting equity - intranational, transnational and intergenerational - at the center of analyses does not make the answers easier, but it does make their pursuit realistic and potential application more effective."
Richard B. Norgaard, Professor of Energy and Resources and of Agricultural and Resource Economics, University of California, Berkeley

"This volume makes a valuable contribution to the literature by providing a unified theoretical background to the topic in addition to specific representative applications. The presentation of both vertical and horizontal equity is unique in that this volume pulls together ideas that lead to the recognition that one form of equity cannot generally be addressed in isolation from the other. The over-riding strength is the direct approach taken to a complex and controversial issue. The argument that equity is, and should be, a determining factor in how we address global environmental issues is clearly expressed and well-supported on both theoretical and applied bases." Jane V. Hall, Professor of Economics, California State University, Fullerton
* Global Environmental Economics: Equity and the Limits to Markets represents a stimulating collaboration by economists, ethicists, political scientists, demographers, and ecologists from around the world.
* By focusing on the implications for future generations and the people of developing countries, the editors provide an alternative to standard approaches that have concentrated on the short-term solutions consumers or markets are willing to support.
* The book illustrates that the issues of equity can be applied to global environmental problems as well as take a more central role in economic theory. It contends that new developments in social-choice theory offer a better foundation than traditional welfare economics.