Global Etiquette Guide to Mexico and Latin America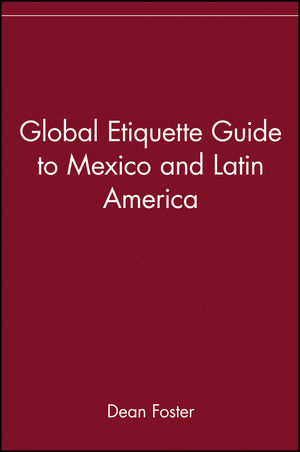 Global Etiquette Guide to Mexico and Latin America
ISBN: 978-0-471-41851-1
Jun 2002
304 pages
Description
Authored by one of the world's leading cross-cultural experts.
Invaluable for both business and leisure travelers.
Comprehensive and practical coverage.
Preface.

Introduction: Why Getting It Right around the World Is So Important.

Part One: Meso- and Centroamerica: Saludos, Salsa, and Simpático.

Chapter One: Mesoamerica: Mexico.

Chapter Two: The Northern Centroamerican Cultures: Guatemala, Belize, Honduras, and El Salvador.

Guatemala.

Belize.

Honduras.

El Salvador.

Chapter Three: The Southern Centroamerican Cultures: Nicaragua, Costa Rica, and Panama.

Nicaragua.

Costa Rica.

Panama.

Part Two: South America: Conquistadors, Contessas, and Condomble.

Chapter Four: The North Andean Cultures: Colombia, Venezuela, and Ecuador.

Colombia.

Venezuela.

Ecuador.

Chapter Five: The South Andean Cultures: Peru and Bolivia.

Peru.

Bolivia.

Chapter Six: Brazil.

Chapter Seven: The Western "Southern Cone" Cultures: Argentina and Chile.

Argentina.

Chile.

Chapter Eight: The Eastern "Southern Cone" Cultures: Paraguay and Uruguay.

Paraguay.

Uruguay.

Part Three: The Caribbean: Mambo, Mosaic, and Manana.

Chapter Nine: The Hispanic-African Cultures: Cuba, The Dominican Republic, and Puerto Rico.

Cuba.

The Dominican Republic.

Puerto Rico.

Chapter Ten: The Franco-African Cultures: Haiti.

Chapter Eleven: The Anglo-African Cultures: Jamaica, Barbados, and Trinidad and Tobago.

Jamaica.

Barbados.

Trinidad and Tobago.

Index.