Global Financial Institutions and Markets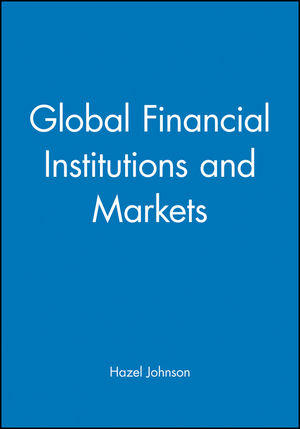 Global Financial Institutions and Markets
ISBN: 978-1-557-86992-0
Feb 2000
664 pages
Description
Global Financial Institutions and Markets is the first financial institutions and markets text to thoroughly integrate international coverage throughout. Using a developmental perspective, the book compares and contrasts the structure and trends of both US and international financial markets and institutions.
Preface.
How to Use This Book.
1. Overview of Financial Intermediation.
Part I: Domestic Money Markets:.
2. Money.
3. Money Markets.
Part II: Domestic Capital Markets:.
4. Capital Market Instruments.
5. Capital Markets and International Diversification.
6. Investment Banking.
7. Derivative Securities.
Part III: International Financial Markets:.
8. Foreign Exchange Markets.
9. Euromarkets and the European Union.
Part IV: The Interest Rate Environment:.
10. Interest Rate Fundamentals.
11. Interest and Exchange Rate Patterns.
Part V: Bank Regulation:.
12. The Formation of US Bank Regulation and the Federal Reserve System.
13. US Monetary Policy, Deregulation and Deposit Insurance.
14. Central Banks and Regulatory Systems Outside the US.
Part VI: Management of Financial Institutions:.
15. Profitability, Liquidity and Liability Management.
16. Investment and Loan Portfolio Management.
17. Capital and Asset/Liability Management.
18. Bank Valuation.
19. Regional Trade Agreements and Financial Services.
Part VII: Bank Operations:.
20. Commercial and Non-Commercial Banks.
21. The Domestic Operations of Commercial Banks.
22. The International Operations of Commercial Banks.
23. The Impact of Technological Change.
24. Commercial Banks and the Securities Markets.
25. Nationwide Banking and the Riegle-Neal Act.
Part VIII: Nonbank Financial Institutions:.
26. Savings and Loan Associations and Mutual Savings Banks.
27. Credit Unions.
28. Investment Companies.
29. Pension Funds.
30. Insurance Companies.
31. Finance Companies.
Appendix A.
Index.
"There is no competition for this book. Johnson's exhaustive research will benefit students and faculty greatly. The approach to the internationalization of the material is unique, the descriptive and historical material is comprehensive and detailed, and the exhaustiveness and completeness of the material of the material is impressive. It is more than a textbook. It is the most complete approach to financial institution I have seen." -- Henry M. Okleshen, Mankato State University
* Provides extensive coverage and comparisons of international financial markets.
* Features trend information over time for specific financial services industries.
* Includes chapter overviews, outlines and summaries; key terms; end-of chapter questions and problems; and selected references.
* Offers comprehensive Instructor's Manual with teaching notes.