Global Governance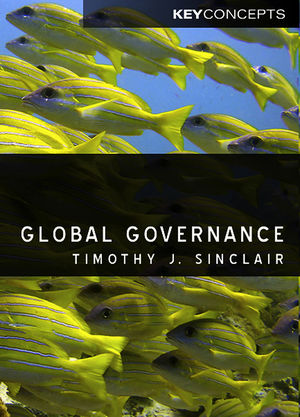 Global Governance
ISBN: 978-0-745-65643-4 April 2013 Polity 200 Pages
Description
In today's uncertain world, the concept of global governance has never been more relevant or widely discussed. But what does this elusive idea really mean, and why has it become so important? This pacey introduction sheds new light on the issues involved, offering readers a comprehensive account of competing conceptions of global governance, and evaluating the ways in which rival theories strive to make sense of our complex world.

In a series of short, accessible chapters, Timothy Sinclair guides readers through the key perspectives on this crucial topic. In each, he assesses a range of actors and assumptions using real world issues - from global financial crisis and climate change to the politics of gender relations - to show how questions of global governance carry quite specific implications for the everyday lives of people in different parts of the world. Supplemented by thought-provoking 'problems to consider', as well as annotated reading guides at the end of each section, the book equips students to make up their own minds which approach or approaches might be cogent and for what purposes. Written with verve and clarity, this compelling introduction brings problems of global governance to life ably showing why and how they are both relevant and compelling for all citizens in the 21st century.
Table of contents
Acknowledgements viii
1 Introduction 1
2 Emergence 11
3 Institutionalism 31
4 Transnationalism 57
5 Cosmopolitanism 81
6 Hegemonism 105
7 Feminism 131
8 Rejectionism 152
9 Conclusions 174
Bibliography 184
Index 192
Reviews
"This is exactly what the field needs: a refreshing approach that gets us beyond stale ways of thinking about global governance. Novel and engaging from the off, Sinclair's book is first rate. It is a must for anyone looking to get to grips with this important topic."
Rorden Wilkinson, University of Manchester
"A highly original and provocative analysis which ranges from abstract theory to grounded family relations.  More than a primer, this excellent text will stimulate extensive thought and debate on global governance."
Robert O'Brien, McMaster University
"In this important and innovative book Tim Sinclair provides a searching critique of the concept of global governance, arguing that its greatest value is in directing our attention to the increasing number of political problems which can no longer be solved by national governments."
Andrew Gamble, University of Cambridge
Features
An accessible introduction to a key concept in political science and related disciplines.
Global governance is a contested concept with several competing definitions; this book gives a clear overview of the relevant debates.
As our world grows ever more globalized and interconnected, a clear understanding of the role of international institutions becomes increasingly vital.
Sinclair outlines and evaluates the key theories of global governance, with sufficient breadth and accessibility to appeal to both students and professionals.