Global Health and Global Aging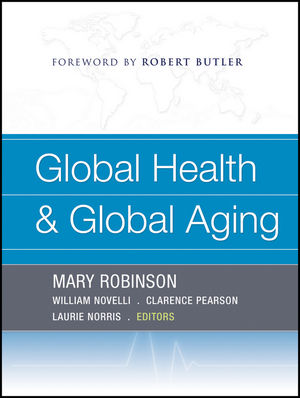 Global Health and Global Aging
ISBN: 978-1-118-42407-0 November 2007 Jossey-Bass 400 Pages
Description
The book covers the fundamentals of global aging and health and provides real-world models from countries and regions that offer the best practices in current approaches. Global Health and Global Aging presents information about leadership and governance challenges as well as insights about aging in different cultures and countries in all regions of the world.
About the AARP Foundation viii
Foreword x
Robert N. Butler, M.D.
Preface xi
Mary Robinson
The Editors xv
Contributors xvi
PART ONE: THE WORLD AND ITS AGING POPULATION
1. World Policies on Aging and the United Nations 3
Alexandre Sidorenko
2. Population Aging: A Global Overview 15
Mary Beth Weinberger
3. The World Health Organization and Global Aging 31
Alex Kalache
4. Leadership and Governance Challenges for Global Health and Aging 47
Derek Yach
5. Perception of Aging in Different Cultures 58
Frank E. Eyetsemitan
PART TWO: COUNTRIES WITH HIGH RATES OF LONGEVITY
6. Healthy Aging in Denmark? 71
Bjarne Hastrup
7. Challenges of Longevity in France: The International Longevity Centre-France Perspective 85
Francoise Forette and Marie-Anne Brieu
8. Healthy Aging in Finland 96
Pekka Puska
9. Healthy Aging in Germany 106
Ulla Schmidt
10. Healthy Aging from Seventy to Over One Hundred in Germany: Lessons from the Berlin Aging Study 118
Jacqui Smith and Paul B. Baltes
11. Challenges of Productive Aging in Japan 128
Shigeo Morioka
12. Healthy Aging in the Netherlands 140
C.I.J.M. Ross-van Dorp
13. Aging in Spain: Working Toward Creating New Rights in the Welfare State 149
Jose Luis Rodriguez Zapatero
14. Health and Aging in Sweden 157
Barbro Westerholm
15. Aging in the United Kingdom 168
Sally Greengross
16. Healthy Aging in the United States 177
Jeanette C. Takamura
PART THREE: COUNTRIES FACING RAPID POPULATION AGING IN THE NEXT TWENTY TO THIRTY YEARS
17. Health and Aging in Africa 187
Nana Araba Apt
18. Aging of Populations: Is China's Pattern Unique? 197
Lincoln Chen and Lingling Zhang
19. Health and Aging in India 208
Sharad D. Gokhale
20. Health and Aging in the Eastern Mediterranean Region 215
Mohamed H. El-Banouby
21. Health and Aging in Russia 226
Vladimir Kh. Khavinson and Olga N. Mikhailova
22. Health and Aging in Latin America and the Caribbean 238
Enrique Vega
PART FOUR: LEADERS IN RESEARCH AND INNOVATIVE PROGRAMS
23. The Biology of Aging: Current Research and Expected Future Gains 249
George M. Martin and Joshua Lederberg
24. Exceptional Longevity 257
Thomas Perls and Dellara F. Terry
25. Cities, Sociodiversity, and Strategy 275
Jaime Lerner
26. Creating a Healthy Environment for Aging Populations 281
Gloria M. Gutman
27. How Government, Business, and Social Sector Partnerships Can Finance Programs for the Aging 292
A. James Forbes, Jr.
28. Policies and Practices Affecting Health and Longevity of People with Disabilities: Lessons from the United Kingdom 300
Hector Medora and Angela Hassiotis
29. Keeping People Active: Continuing Education Programs that Work 313
Julia Preece and Brian Findsen
30. Longevity's Impact on Retirement Security 323
C. Robert Henrikson
31. Improving Health Care in America: Lessons Learned from the Global Village 337
William D. Novelli
PART FIVE: EPILOGUE: THE ROAD AHEAD
32. Epilogue: The Road Ahead 351
Erik Olsen
Timing: First book by leading experts on the critically important intersection of aging and global public health
Leading Edge Topic:  The importance of global aging to well being, the economy, as well as its immediate impact on regional development and economies, is a hot topic.
International: Includes many leaders of, and experts in, global aging and health issues from the developed and developing world.
Track Record: Clarence Pearon (editor), who is well connected in all public health arenas, is pulling out the stops to bring in the best and most well known contributors. His book Critical Issues in Global Health, featuring C. Everett Koop and Jimmy Carter, got great reviews, sales, and text adoptions. His most recent book, Global Health Leadership and Management, just received a rave review in the New England Journal of Medicine.
Platform: The American Association of Retired People (AARP) has pledged to make a substantial purchase of the first run to support and promote publication of the book.