Global Marketing Management, 7th Edition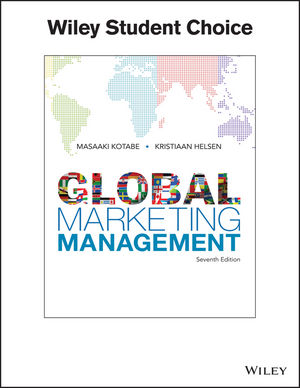 Global Marketing Management, 7th Edition
ISBN: 978-1-119-29871-7
Nov 2016
624 pages
Description
TRY (FREE for 14 days), OR RENT this title: www.wileystudentchoice.com

The 7th Edition of Global Marketing Management prepares students to become effective managers overseeing global marketing activities in an increasingly competitive environment. The text's guiding principle, as laid out concisely and methodically by authors Kotabe and Helsen, is that the realities of international marketing are more "multilateral."
Suitable for all business majors, the text encourages students to learn how marketing managers work across business functions for effective corporate performance on a global basis and achievement of overall corporate goals. Global Marketing Management brings timely coverage in various economic and financial as well as marketing issues that arise from the acutely recessionary market environment.
1 GLOBALIZATION IMPERATIVE 1
2 ECONOMIC ENVIRONMENT 32
3  FINANCIAL ENVIRONMENT 61
4  GLOBAL CULTURAL ENVIRONMENT AND BUYING BEHAVIOR 93
5  POLITICAL AND LEGAL ENVIRONMENT 125
6  GLOBAL MARKETING RESEARCH 174
7  GLOBAL SEGMENTATION AND POSITIONING 204
8  GLOBAL MARKETING STRATEGIES 233
9  GLOBAL MARKET ENTRY STRATEGIES 271
10 GLOBAL PRODUCT POLICY DECISIONS I: DEVELOPING NEW PRODUCTS FOR GLOBAL MARKETS 308
11 GLOBAL PRODUCT POLICY DECISIONS II: MARKETING PRODUCTS AND SERVICES 333
12 GLOBAL PRICING 366
13 GLOBAL COMMUNICATION STRATEGIES 391
14 SALES MANAGEMENT 426
15 GLOBAL LOGISTICS AND DISTRIBUTION 457
16 EXPORT AND IMPORT MANAGEMENT 497
17 PLANNING, ORGANIZATION, AND CONTROL OF GLOBAL MARKETING OPERATIONS 528
18 MARKETING STRATEGIES FOR EMERGING MARKETS 548
19 GLOBAL MARKETING AND THE INTERNET 577
20 SUSTAINABLE MARKETING IN THE GLOBAL MARKETPLACE 603
CASES (AVAILABLE AT: WWW.WILEY.COM/COLLEGE/KOTABE)
SUBJECT INDEX 639
NAME INDEX 659
COMPANY INDEX 669
Thoroughly updated, contemporary examples throughout the book
The last few years have seen various uncertainties in the world, caused by the deceleration of the Chinese economy, Greek financial crisis, and wars in the Middle East. We will expand on how those uncertainties affect global marketing activities.
Emphasizes more clearly, wherever necessary, that successful global marketing strategy is a confluence of pursuing economies of scale (in some aspects of the value adding activities) on the supply side and cultural sensitivities on the demand side. In other words, global marketing is far from selling the same thing the same way around the world.
Three chapters on new topics (emerging markets; the internet marketing; and corporate social responsibility). These topics have become all the more important. As such, they will be expanded on significantly.
A number of new long cases have been added. 
Over 40 case studies, both long and short, cover a range of global businesses to support the development of global strategic thinking.
Stimulating, real-life Discussion and Review Questions listed at the end of each chapter.
Authors' pedagogical orientation embraces useful, well known marketing methods but also sets itself apart through its focus on the following areas: Global Orientation, Cultural Sensitivity, Research Orientation, Interdisciplinary Perspective, Proactive Orientation, Practical Orientation, and Internet Implications.
"Global Perspectives" Inserts serve as "Mini-Cases" for class discussion, or as controversial issues that students should be aware of.