Global Meetings and Exhibitions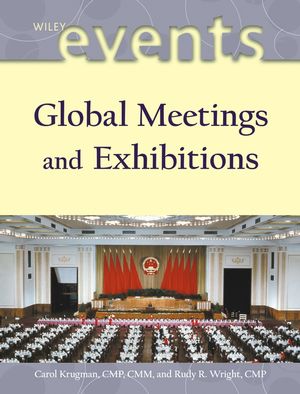 Global Meetings and Exhibitions
ISBN: 978-0-470-07345-2
Mar 2007
288 pages
Product not available for purchase
Description
Global Meetings and Exhibitions is the result of two decades worth of planning, managing, and executing multinational, multicultural events across the globe. The distinguished authors have culled their world-class advice into a single, complete resource for the next generation of meeting professionals. This comprehensive guide offers everything you need to know, including the skills in multinational operations capabilities and cross-cultural awareness that are critical in today's marketplace.
Series Editor Foreword.
Foreword. 
Preface.
Acknowledgements.
Chapter 1. Fundamentals of Meetings, Conventions and Exhibitions.
Chapter 2. Deciding Factors.
Chapter 3. Destination Assessment.
Chapter 4. Organizing and Hosting International Events.
Chapter 5. Managing Currency and Finances.
Chapter 6. Program Planning and Development.
Chapter 7. Cultural Consideration.
Chapter 8. Marketing the Event.
Chapter 9. International Contracts and Legalities.
Chapter 10. Implementing the Meeting Plan.
Chapter 11. Global Exhibitions.
Chapter 12. On-Site Operations.
Chapter 13. Preparing for Travel Abroad.
Chapter 14. Safety and Security.
Chapter 15. Event Technology.
Appendix 1: Major Meeting Industry Associations and Organizations.
Appendix 2: Meeting Software and Services.
Appendix 3 Checklist.
Appendix 4: Criteria for Venue Selection.
Appendix 5: Sample Quiz.
Appendix 6: Program Guidelines for Global Meetings.
Appendix 7: Guidelines for Hosting International Visitors.
Appendix 8:Glossary of International Financial Terms..
Appendix 9: Sample Schedules.
Appendix 10: Budget Worksheet.
Appendix 11: Forms.
Appendix 12: Case Studies.
Index. 
Comprehensive guide to full scope of meeting planning; including planning, budgeting, logistics, venue selection, and sponsorship.
Only book in the market to approach meeting planning from an international perspective.
Sample forms and contracts included throuhout the chapters and appendices.
Part of the Wiley Events Seris
Instructor's Manual