Global Perspectives In Information Security: Legal, Social, and International Issues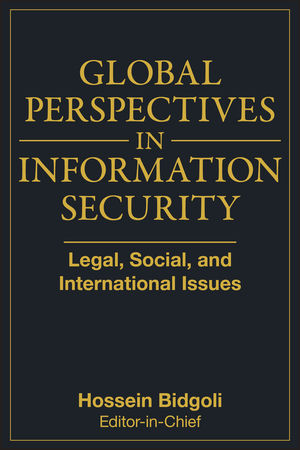 Global Perspectives In Information Security: Legal, Social, and International Issues
ISBN: 978-0-470-37211-1 September 2008 896 Pages
Description
Global Perspectives in Information Security, compiled by renowned expert and professor Hossein Bidgoli, offers an expansive view of current issues in information security. Written by leading academics and practitioners from around the world, this thorough resource explores and examines a wide range of issues and perspectives in this rapidly expanding field. Perfect for students, researchers, and practitioners alike, Professor Bidgoli's book offers definitive coverage of established and cutting-edge theory and application in information security.
Preface.
Part One: Legal Issues and Considerations.
Chapter 1: Cyberlaw: The Major Areas, Development, and Information Security Aspects (Dennis M. Powers, Southern Oregon University).
Chapter 2: Legal, Social, and Ethical Issues of the Internet (Kenneth Einar Himma, Seattle Pacific University).
Chapter 3: Cybercrime and the U.S. Criminal Justice System (Susan W. Brenner, University of Dayton School of Law).
Chapter 4: Cyberterrorism and Information Security (Charles Jaeger, Southern Oregon University).
Chapter 5: Law Enforcement and Computer Security Threats and Measures (Mathieu Deflem and J. Eagle Shutt, University of South Carolina).
Chapter 6: Corporate Spying: The Legal Aspects (William A. Zucker, Gadsby Hannah LLP and Scott Nathan, Independent Consultant).
Chapter 7: Spam and the Legal Counterattacks (Charles Jaeger, Southern Oregon University).
Chapter 8: Hacktivism (Paul A. Taylor, University of Leeds, United Kingdom and Jan Ll. Harris, University of Salford, United Kingdom).
Chapter 9: Online Contracts (G.E. Evans, Queen Mary Intellectual Property Research Institute, United Kingdom).
Chapter 10: Law Enforcement and Digital Evidence (J. Philip Craiger and Jeff Swauger, University of Central Florida and Mark Pollitt, DigitalEvidencePro).
Part Two: Social Issues and Considerations.
Chapter 11: Privacy Law and the Internet (Ray Everett-Church, PrivacyClue LLC).
Chapter 12: Internet Censorship (Richard A. Spinello, Boston College).
Chapter 13: Anonymity and Identity on the Internet (Jonathan Wallace, DeCoMo USA Labs).
Chapter 14: Digital Identity (Drummond Reed, OneName Corporation and Jerry Kindall, Epok, Inc.).
Chapter 15: Digital Divide (Jaime J. Davila, Hampshire College).
Chapter 16: Medical Records Security (Normand M. Mariel, Medical Technology Research Corp).
Part Three: International Issues and Policy Considerations.
17: E-Government Security Issues and Measures (William C. Barker, National Institute of Standards and Technology).
Chapter 18: International Security Issues of E-Government (Karin Geiselhart, University of Canberra, Australia).
Chapter 19: Global Aspects of Cyberlaw (Julia Alpert Gladstone, Bryant University).
Chapter 20: Combating the Cybercrime Threat: Developments in Global Law Enforcement (Roderic Broadhurst, Queensland University of Technology, Australia).
Chapter 21: Information Leakage: Detection and Countermeasures (Phil Venables, Goldman Sachs).
Chapter 22: Wireless Information Warfare (Randall K. Nichols, The George Washington University & University of Maryland University College).
Chapter 23: E-Mail and Internet Use Policies (Nancy J. King, Oregon State University).
Chapter 24: Guidelines for a Comprehensive Security System (Hossein Bidgoli, California State University, Bakersfield).
Index.