Global Social Problems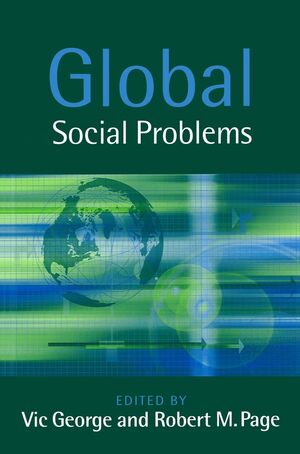 Global Social Problems
ISBN: 978-0-745-62951-3 November 2004 Polity 224 Pages
Description
In this major new textbook, Vic George and Robert Page provide an original and much-needed introduction to global social problems and the emergence of a global social policy response.

In an increasingly globalized world, it is inevitable that many of the social problems which have so far been seen as national in character will assume a global character. Global social problems are those which cannot be confined within national boundaries and which need both national and international attention if they are to be ameliorated. Pollution of the atmosphere is a stark example of this process. Global Social Problems begins with a discussion of the contested concept of globalization. Then eight of the most important global social problems are explored and explained by leading experts in environmental degration, international poverty, crime, AIDS, drugs, family violence, racism and migration. The book also includes chapter which explores the global social policy implications of these developments.


With suggestions for further reading and accessible style, this book will be essential reading for undergraduate students in the social science, particularly those studying social policy, sociology and politics.
Acknowledgements.
Contributors.
Introduction.
1 Globalization, Risk and Social Problems (Vic George).
2 Globalization and Social Welfare (Robert Page).
3 Globalization and the Environment (Andrew Dobson).
4 Globalization and Poverty (Vic George).
5 Globalization of Crime: terror in a contracting globe (Mark Finlay).
6 Globalization and Drugs (Larry Harrison).
7 Globalization and AIDS (Kathy Attawell).
8 Globalization and Family Violence (Jan Pahl, Claudia Hasanbegovic and Mei-Kuei Yu).
9 Globalization and Racism (Norman Ginsburg).
10 Globalization, Migration and Asylum (Stephen Castles and Sean Loughna).
Epilogue.
References.
Index.
"This collection not only manages to summarize a wide variety of different debates but challenges us to engage with them even further. Both students and teachers will find it a useful guide to one of the most important subjects in the social sciences today."
--
Tony Fitzpatrick
,
University of Nottingham
"By addressing the topic of global social policy through the lens of global social problems, Vic George and Robert Page have added a useful volume to the international social policy literature. The authors have made a welcomed departure from the standard literature in the field by moving beyond the frameworks of mythological nationalism and comparative studies towards a much needed transnational social policy analysis."
--Bob Decon, University of Sheffield


provides an introduction to a wide range of social problems and their relation to the global era, such as AIDS, poverty and racism.


includes chapters written by acknowledged experts in the field of social policy specifically for students.


suggests ways in which global social problems could be dealt with through global social policy.