Global Sport: Identities, Societies, Civilizations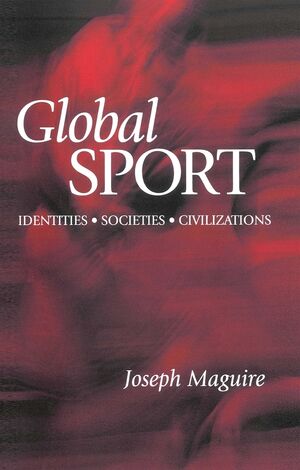 Global Sport: Identities, Societies, Civilizations
ISBN: 978-0-745-61532-5
Sep 1999, Polity
256 pages
Description
In his major new work, Joseph Maguire develops a path-breaking account of sport in a global context, examining the changing nature of sport in relation to globalisation.
Preface.
Introduction: Sports, Local Cultures and Global Processes.
Part I: Conceptual and Theoretical Issues:.
1. Theorizing Sport in the Global Process.
2. Globalisation, Process Sociology and Cross-Cultural-Civilisation Analysis.
3. Globalisation, Civilising Offensives and Sportization Processes.
4. The Global Sports Formation: Meaning, Power and Control.
Part II: The Globalisation of Sport and its Consequences.
5. Global Trails, Migrant Labour and Elite Sport Cultures.
6. The Sports Industry, Global Commodity Chains and Sustainable Sport.
7. The Global Media-Sport Complex.
8. Global Sport, Identity Politics and Patriot Games.
Conclusion: Diminishing Contrasts, Increasing Varieties - Towards a Global Sports Culture or the Globalisation of Sports?.
Bibliography.
Index.
"Sport has become a central interest of people's lives in the modern world; Joe Maguire's lively book shows that it is now equally central to sociology, and that sociologists have something to say that will interest the general reading public."
Stephen Mennell, University College, Dublin
"Basing his arguments and analyses largely on a judicious use of the theories of Elias, Joseph Maguire succeeds in Global Sport in shedding new and original light on this important but neglected aspect of globalization. Not least among the merits of his path-breaking text are the ways in which he shows, first, that globalization, including the globalization of sport, is far from being the recent development that many people take it to be, and second, that this process deserves far more attention than it has received up to now. Global Sport is an excellent book which deserves to sell very well." Eric Dunning, University of Leicester
* A path-breaking account of sport in a global context, examining the changing nature of sport in relation to globalization.
* Develops an original theoretical perspective on sport and globalization, drawing on the work of Elias and others to develop a five-stage model of the emergence and global diffusion of modern sport.
* Uses a variety of case studies on elite labour migration, media sport, sports industry and the environment, sport, politics and national identity.