Global Strategy and the Organization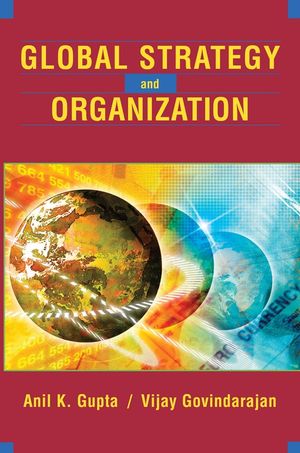 Global Strategy and the Organization
ISBN: 978-0-471-25029-6
Apr 2003
224 pages
Description
The twin forces of ideological change and technology revolution are making globalization one of the most important strategic and organizational issues facing companies today. With every passing day, it is becoming more obvious that managers must view every industry as a global industry and every business as a knowledge business. As worldwide presence becomes a strategic imperative rather than a discretionary choice, an increasing number of companies must confront the essential question: How do we engineer and exploit the ongoing globalization of our industry? Anil K. Gupta and Vijay Govindarajan's Global Strategy and Organization is designed to help students and managers learn how to address this important question.
The book focuses on the four tasks that are essential for any company to emerge and stay as a global leader in its industry:
Identify market opportunities worldwide and pursue those opportunities by establishing the necessary presence in all key markets
Convert global presence into global competitive advantage
Cultivate a global mindset in order to recognize and exploit good ideas wherever they arise
Strive to reinvent the rules of the global game
Chapter 1. The Challenge of Globalization.
Chapter 2. Developing a Global Expansion Strategy.
Chapter 3. Analysis of Wal-Mart's Global Expansion.
Chapter 4. Building Global Competitive Advantage.
Chapter 5. Cultivating a Global Mindset.
Chapter 6. Leveraging Knowledge Across the Global Network.
Chapter 7. Creating and Managing Global Business Teams.
Chapter 8. Transforming the Global Game.
Chapter 9. Globalization in the Digital Age.
Notes.
Bibliography.
Name and Subject Index.
Company Index.
The text can be easily accompanied by the instructor's favorite cases. For a suggested list of cases, see the Instructor's Manual.
Based on the authors' highly acclaimed book titled The Quest for Global Dominance, which was hailed as "a blueprint for companies that wish to keep pace with the advance of globalization today..." (Business Monthly, September 2001).
Gupta and Govindarajan are, individually and collectively, among the most highly respected academics and consultants on the subject of globalization. One of their early papers on this subject received the highly coveted Glueck Best Paper Award in Business Policy and Strategy from the Academy of Management.
Presents lessons learned from their research studies of more than 100 global corporations and their experience guiding companies through the process of globalization.
Provides broad coverage of issues related to creating and exploiting global presence.
Each chapter focuses on a specific action-oriented issue.
Case studies of real firms, such as Wal-Mart, Dell Computer, and Canon, provide insights into the challenges associated with globalization and illustrate the authors' findings.