Global Training and Development: Training and Development 11.2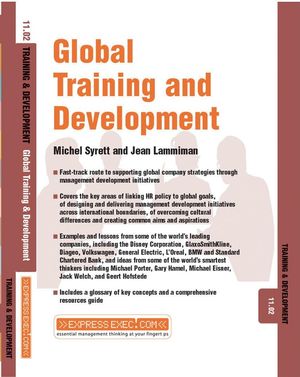 Global Training and Development: Training and Development 11.2
ISBN: 978-1-841-12443-8 April 2003 Capstone 126 Pages
Description
Effective Training & Development is essential if you are to continuously get the best from your people and extend the knowledge shelf-life of your company. This module explores the vast array of options available to the HR function including on-the-job learning, formal management education, coaching and mentoring. Cost-effectiveness and measurable payback are also dealt with as cornerstones of any training and development activity.
Introduction to ExpressExec.
Introduction.
Definition of Terms.
Evolution: From Feudal Posts to Fast-track Projects.
Evolution: Towards a Global Learning Organization.
The E-Dimension.
The State of the Art.
In Practice.
Key Concepts and Thinkers.
Resources.
Ten Steps to Making it Work.
Frequently Asked Questions (FAQs).
Index.