Global Visual Cultures: An Anthology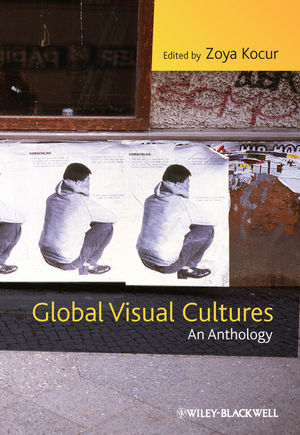 Global Visual Cultures: An Anthology
ISBN: 978-1-405-16920-2 April 2011 Wiley-Blackwell 424 Pages
Description
Global Visual Cultures
is a definitive anthology that provides a new and groundbreaking perspective on the field, and addresses multiple interpretations of the visual, from considerations of the "everyday" to global political contexts. 
Expands the theoretical framework for considering visual culture
Brings together a rich selection of readings relevant in a variety of disciplinary and interdisciplinary settings, from critical theory, anthropology and history, to political science, architecture, and ethnic, race and gender studies
Analyzes cultural phenomena in global and local contexts and across a broad geographical and geopolitical terrain
Address multiple interpretations of the visual, from considerations of the "everyday" to global political contexts
Offers ample, useful pedagogy that reveals the multi-faceted nature of visual culture
Table of contents
Notes on Contributors.
Acknowledgements.
List of Images.
Introduction.
Part I: Realigned Art Worlds: art/agency/globalism.
Introduction (Zoya Kocur).
1.Globalism or Nationalism? (Cai Guoqiang, Zhang Huan, and Xu Bing in New York, Xiaoping Lin).
2. Linking Theory, Politics and Art (Marina Gržinić).
3. Art, Agency and Hermetic Imagination (Jean Fisher).
4. Constitutive Effects: The Techniques of the Curator (Simon Sheikh).
5. Do Images Have a Gender? (David Joselit).
6. Rethinking the F Word: A Review of Activist Art on the Internet (Mary Flanagan and Suyin Looui).
Part II: (in)Visible architectures: space/geopolitics/power.
Introduction (Zoya Kocur).
7. La Lección Arquitectónica de Schwarzenegger (The Arquitectural Lesson of Arnold Schwarzenegger) (Cuauhtemoc Medina).
8. Checkpoints: The Split Sovereign and the One-Way Mirror (Eyal Weizman).
9. Black Tents (Çagla Hadimioglu).
10. Subterranean Modernities: The Spanish City and its Visual Underground (Juan F. Egea).
11. Visualizing Antarctica as a Place in Time (Kathryn Yusoff).
12. Images of Untranslatability in the US War on Terror (Rosalind C. Morris).
13. An Immense and Unexpected Field of Action: Webcams. Surveillance and everyday life (J. Macgregor Wise).
Part III: Mediated Bodies: representation/circulation/self.
Introduction (Zoya Kocur).
14. Michael Jackson, Television, and Post-Op Disasters (Macarena Gómez-Barris and Herman Gray).
15. Aliens and Indians: Science Fiction, Prophetic Photography and Near-Future Visions (Curtis Marez).
16. Orienting Orientalism, or How to Map Cyberspace (Wendy Hui Kyong-Chun).
17. Spatial "wRapping": A Speculation on Men's Hip-Hop Fashion (Scott L. Ruff).
18. Self Styling (Sarah Nuttall).
19. "Straight" Women, Queer Texts: Boy-Love Manga and the Rise of a Global Counterpublic (Andrea Wood).
Part IV: Afterimage: trauma/history/memory.
Introduction (Zoya Kocur).
20. Squatting Through Violence (Simon Leung).
21. Contemporary Documentary Film and "Archive Fever": History, the Fragment, the Joke (Jaimie Baron).
22. The mote in God's eye: 9/11, then and now (Jon Bird).
23. Caught by Images (Ernst van Alphen).
24. Political Literacy and Voice (Joy James).
Index.
Reviews
"What makes this volume unique is its welcoming of various topics; asking its readers to stroll over these by putting them side-by-side and by putting aside, if there is any, their categorical and/or taxonomical views; and having the company of these myriad fields of visual culture … Global Visual Cultures is a timely endeavour in broaching our capacity to imagine the world as a global entity which entails various mechanisms of exchange and sharing." (British Journal of Aesthetics, April 2013)
Features
Contributes to an expanding theoretical framework for considering visual culture
Brings together a selection of readings relevant in a variety of disciplinary and interdisciplinary settings, from critical theory, anthropology and history, to political science, architecture, and ethnic, race and gender studies
Reveals the interplay between areas of study in this diverse field
Analyzes cultural phenomena in global and local contexts and across a broad geographical and geopolitical terrain
Address multiple interpretations of the visual, from considerations of the "everyday" to global political contexts
Provides a new and groundbreaking perspective on visual culture on a global scale