Globalization: Key Thinkers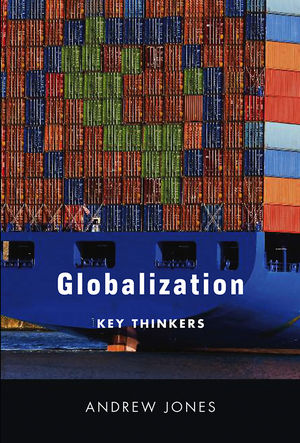 Globalization: Key Thinkers
ISBN: 978-0-745-64322-9 July 2010 Polity 224 Pages
Download Product Flyer
Download Product Flyer
Download Product Flyer is to download PDF in new tab. This is a dummy description. Download Product Flyer is to download PDF in new tab. This is a dummy description. Download Product Flyer is to download PDF in new tab. This is a dummy description. Download Product Flyer is to download PDF in new tab. This is a dummy description.
Description
Globalization: Key Thinkers offers a critical commentary on the leading thinkers in the contemporary globalization debate, as well as new arguments about the future direction of globalization thinking. The book guides the reader through the key arguments of leading thinkers, explaining their place in the wider globalization debate and evaluating their critical reception. Eleven thematic chapters focus on one or two key thinkers covering every aspect of the globalization debate including the theoretical arguments of Anthony Giddens and Manuel Castells, to the positive arguments of Thomas Friedman and Martin Wolf and the reforming ideas of Joseph Stiglitz. Other chapters variously address the ideas of Immanuel Wallerstein, Arjun Appadurai, Paul Hirst, Naomi Klein, Grahame Thompson, David Held, Anthony McGrew, Michael Hardt, Antonio Negri, Saskia Sassen and Peter Dicken. Each chapter also provides some carefully selected recommendations for further reading for the thinkers discussed. The book ends with a concluding chapter that examines how thinking about globalization is likely to develop in future. Whilst individual chapters can stand alone, the book is designed as a whole to enhance the reader's understanding of how different thinkers' ideas relate and contrast to each other.
Table of contents
Introduction: Thinking About Globalization
Systemic Thinking: Immanuel Wallerstein
Conceptual Thinking: Anthony Giddens
Sociological Thinking: Manuel Castells
Transformational Thinking: David Held and Anthony McGrew
Sceptical Thinking: Paul Hirst and Grahame Thompson
Spatial Thinking: Peter Dicken and Saskia Sassen
Positive Thinking: Thomas Friedman and Martin Wolf
Reformist Thinking: Joseph Stiglitz
Radical Thinking: Naomi Klein, George Monbiot and Subcommandante Marcos
Revolutionary Thinking: Michael Hardt and Antonio Negri
Cultural Thinking: Arjun Appadurai
Conclusion: Rethinking Globalization (again)
Reviews
"Undergraduate students or anyone else looking for a clear, well-informed introduction to globalisation and its literature should find the book readable and rewarding; readers more familiar with its subject should find it stimulating."
Political Studies Review
"An excellent guide to the works of leading globalization thinkers. More than a regular 'reader' on globalization; Jones offers his own analysis, distils the various criticisms and evaluates the thinker's contributions against the historical context of his or her key works."
Geografiska Annaler B
"This imaginative book offers an excellent grand tour of the monumental works by 18 leading thinkers of contemporary globalization. Written in a highly systematic and yet critical manner, Jones' book clearly stands out as the key introductory reference in the messy jungle of globalization studies."
Henry Yeung, National University of Singapore

"Andrew Jones has produced an absorbing and detailed analysis of some of the key writers on globalisation that provides a timely and critical assessment of the current state of knowledge in this somewhat crowded field."
Diane Perrons, London School of Economics
"This book offers a rather unique and original means of understanding the different perspectives on globalization. It cuts through jargon and presents in a clear fashion the arguments of the key thinkers."
Stephen D. Morris, Tennessee State University
Features


A new textbook providing comprehensive coverage of the most important, well-known and most commonly-used globalization thinkers


The book also covers the dominant traditions and perspectives within the globalization debate, including theoretical perspectives from politics and international relations, sociology and social theory, cultural theory, anthropology and geography


Provides detailed coverage of each thinker or group of thinkers; allocates sufficient space to fully explore their contribution and significance


Each chapter includes a detailed discussion of author's background and position, publishing history, the history of their reception, the development of their work, their central ideas, the critical debates surrounding their work and a critical discussion of its value for an understanding of contemporary globalization and its effects


Thinkers covered include key chapters on Anthony Giddens, David Held, Manuel Castells and Zygmunt Bauman, as well as more thematic chapters looking at Paul Hirst and Grahame Thompson, Antonio Hardt and Michael Negri, Arjun Appaduri, Ulf Hannerz, Roland Robertson, Robert Keohane, Joseph Stiglitz, Dani Rodrik, Peter Dicken and Saskia Sassen