Globalization and Identity: Dialectics of Flow and Closure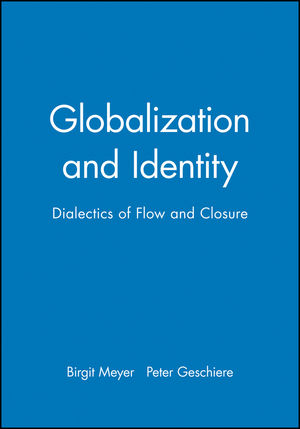 Globalization and Identity: Dialectics of Flow and Closure
ISBN: 978-0-631-21238-6 May 1999 Wiley-Blackwell 344 Pages
Description
"Globalization" and "Identity" are an explosive combination, demonstrated by recent outbursts of communalist violence in many parts of the world. Their varying articulations highlight the paradox that accelerating global flows of goods, persons and images go together with determined efforts towards closure, emphasis on cultural difference and fixing of identities. This collection explores this paradox of 'flow' and 'closure' through a series of detailed case studies in comparative perspective.
Introduction: Birgit Meyer and Peter Geshiere.
Part I: Nationalism and Transnationalism.
Part II: Commodities and Fantasies.
Part III: Theoretical Reflections.
Epilogue: On Some Reports from a Free Space: Ulf Hannerz.
"This mixture of the empirical and the theoretical as well as the emphasis on globalization as an ambivalent situation of flow and closure are the main strengths of this volume and as such it serves as a useful introduction to the topic, not least to those are put off by the overly theoretical approaches usually associated with the subject matter."
John Walliss, Bookends
"The immense merit of this volume to readers who are not steeped in the debates about globalization is that it makes the subject relevant to concerns widely shared in the world today. It is also easily comprehensible, with its, on the whole, enlightening case-studies." Patrick Chabal, International Affairs

" With a rich confluence of diverse empirical material with social theory, the writers in this volume have made a strong and timely anthology for those interested in globalization or identity studies" Matthew Kurtz, University of Alaska Anchorage